As production on Season 4 continues in the real world, we're back with another look inside the Meta universe on Amazon and Showrunner & EP. Eric Kripke's boys. That means it's time for Vought to sell more McPropaganda, taking a look at A-Train's (Jesse T) An "inspirational" ad (Vought's words, not ours) for Turbo Rush. You know, the one who showed how easy it is for Vought to take important social movements and put a price on them? Well, they released the perfect patch in case the original didn't crush your soul enough.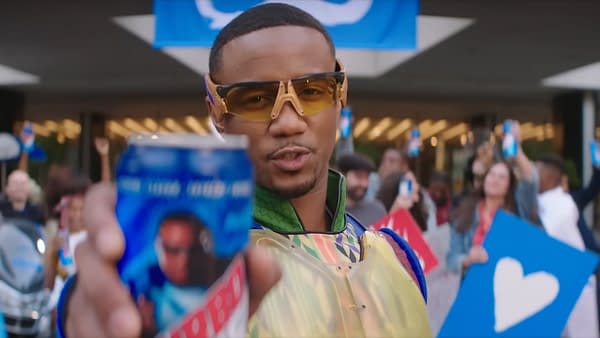 Here's a look at the full commercial, and don't forget there are 7-pack "back to school" discounts right now. Get it…because it's The Seven? Uh… take a look:
In July, Kripke covered a large number of topics in his interview diverse (Check out the full interview with lots of other details over here), focusing on Butcher (Urban) and Ryan (Cameron Crovety), Queen Maeve (Dominic McKellegott), starlight (Erin Moriartyboy soldierJensen Ackles) and Black Noir (Nathan Mitchell):
Should we expect Ryan to go to Brightburn? "Ryan is a really important part of the story because he's half Becca and half patriot. If the butcher can figure out how to put the shit together and get the baby back, that might be the best single weapon they have against the Homelander. But vice versa. If the Homelander wins over the baby, that's horrible." Because there are two Homelanders. It's like a kid's drama with horrific bets. It's like "Kramer vs. Kramer' meets Avengers: Endgame. So that's going to be a really rich story going forward."
How would the butcher react when he learned that he was on a "crazy stopwatch"? "He has so much to do that he hasn't. And everything he has tried to do up to this point has exploded in the ugliest way. What we find fascinating about the question we ask of Butcher is, is he self-aware enough to realize that he is causing his misfortune? Is he aware enough to see Whether he can really change? These are some interesting conversations we're starting to have for season four."
Leaving Maeve will make things more difficult by the stars…at least until you come back? "I don't think 'The Boys' would ever end without Maeve reappearing…we needed a way to gracefully take Maeve out of the show, and let her out. We obviously didn't want to kill her and he fell into the metaphors of gay and bisexual characters on shows. that is killed. We wanted to do the opposite and send her and give her a happy ending with Elena. The best way to do that is to, well, take her she's no longer useful in combat anymore. And we did that because Annie can't grow into her own until all the characters that exist are gone. He turned her around to protect her. It was important for her next step for her guiding characters and the ones protecting her to go away. So it's only up to me. There's no one left but Annie. So what's she going to do?"
Black black is dead! Long live black black! "Without spoiling anything, I'll just say this: When you have a silent character in a mask, it's reasonably easy to recreate…if you notice in memories this season, he was a different actor. [Fritzy-Klevans Destine]and maybe the reason we do this is that if we want to paraphrase Noir, we can paraphrase it with Nathan [Mitchell, the original Black Noir actor].
Just because a boy soldier is on the ice doesn't mean he can't go back… right? "The old TV adage is like, 'Never kill anyone unless you really have to. Never close a door, open a window. We'll all have to wait and see, but I can't imagine the series ending without Soldier Boy making another appearance."