CNN
–

It may be hard to believe, but this weekend marks 30 years since the release of "Aladdin" — the animated classic that paved the way for multiple sequels, a live-action reimagining released in 2019 and even a Broadway musical. To mark the occasion, the eight-time Academy Award-winning composer Alan Menckenwho picked up two statues for his work on the film, spoke with CNN about his memories of making the visual classic.
While the film is beloved by many – not only for showcasing the vocal prowess of the late Robin Williams – Mencken says that nothing would have been possible without his partner, the late poet, Howard Ashmanwhich he called "irreplaceable".
The author also reflects on how Disney, as a studio, handled the depiction of the Far East in the film and how an earlier version in development was delayed due to concerns that preceded cancellation culture by decades.
This conversation has been condensed and lightly edited for clarity.
CNN: When it came to the development of "Aladdin," was there a sense of indecision in Disney about how to tell this story?
Alan Menken, composer: "Aladdin" began around the same time as "The Little Mermaid." While we were still working on "The Little Mermaid," we started "Aladdin," and we had a full opinion on it and it was shelved. Part of (The Reason) was shelved, it was very irreverent, even more ridiculous than it had become, and there was a lot of concern about how it might affect Arab sensibilities.
I remember when we started doing "Aladdin," (we were) thinking about how (we) really wanted it to be a fun wink in a Hollywood movie about the "mysterious east" and all because it had that kind of, I wanted to have a road picture A Bob Hope/Bing Crosby kind of tune, or crazy Fleischer cartoons.
We knew we were walking in line. Wokeness didn't actually arise from nothing, and it wasn't like it didn't exist. Anytime I dealt with a stereotype on these photos, they were vetted very, very carefully. Disney wasn't about to be caught being PC insensitive.
Editor's note: Today, when viewers click on "Aladdin" on Disney+, they first see a message that says in part, "This show contains negative images and/or mistreats people or cultures. Stereotypes were wrong then and are wrong now. Instead of removing This continent, we want to acknowledge its harmful impact, learn from it, and start conversations to create a more inclusive future together."
CNN: I remember at that time, one of the first lyrics in Opening The song for the movie "Arabian Nights" ("Where They Cut Off Your Ears If They Don't Like Your Face") should be changed, for fear of being insensitive. Was this a hint of things to come, in terms of today's standards of political correctness, etc.?
Minkin: That was changed once the picture appeared.
And so we — Howard went — so I rewrote it to, "Where it's hot and wild and the heat's intense, it's barbaric, but hey, it's home." Now, even "barbaric" as an adjective for heat, she's still very sensitive. So for the live-action movie, when Bing Pasek and Justin Paul were lyricists, that was edited as well.
The truly irreverent lyrics were in "A Thousand and One Nights." Because they were creating a world and we were like, "This is our tone. We wink at everything and laugh." We were making fun of a genre, but it's clear that satire of a genre can transfer to making fun of people.
There is always a lot of talk about stereotype, whether it is the right stereotype and whether it can be offensive or something else. But that (lyrical change) was the first place where we said, "Well, we have to change that."
Specifically about making the movie and working with the actors: you have previously spoken On what it was like working with the late Robin Williams. Any other memories you care to share?
Minkin: In The (Recording) Room, Robin was a serious artist. He wanted to learn every note of "A Friend Like Me" and "Prince Ali," and so we dutifully rehearsed it. I think it was a little painful from being in the harness in (Steven Spielberg's 1991 film) "Hawk" all day.
Then of course when we got to the recording sessions, and after he honestly delivered exactly what I wanted out of the song — that kind of Fats Waller style of singing songs — then everyone said, "Well, Robin, can you have fun?"
And… that was where I went crazy, because it was Robin "on." Robin "On" was amazing. Robin was actually a sensitive, kind, and gentle man. It was great to work with him.
What about Gilbert Gottfried, who passed away this year?
Minkin: Gilbert did not contribute musically (to the film). But from the press junk, the movie has been going on for 28 years, or 29 years, Gilbert would always (say), "Where's my song? You never gave me a song!"
You know, there is always a huge gap between people's personality and who they are. He was a sweet, sweet, down-to-earth, sweet, sensitive, fun guy to talk to, a little bit of a nerd and all the stuff, and then when he's "on," you know, all of that stuff is going to be "BLAAAAA!!!" from him. And in animation there are many of those experiences. There are hilarious anecdotes about people when they're "on," and it's amazing.
As you mentioned, you started working on this film with your longtime poet collaborator Howard Ashman, but then continued to work with Tim Rice after Ashman's death in March of 1991. How do you look back on that time now, working with Ashman?
Minkin: He was intelligent, intuitive and had a wonderful understanding of how to mix styles and vocabulary from our culture and from other cultures in a really modern, interesting and fun way. And all the serious letters were kind of in subtext, but subtly in subtext. And that started with our stage shows, especially "Little Shop of Horrors."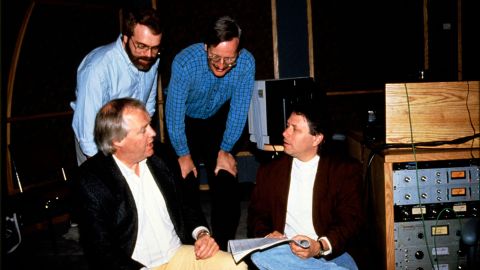 And Howard was a very sophisticated jack (of all trades) – lyricist, book writer, director and producer. He was really just an amazing combination of many gifts and talents.
How about how the animated movie "Aladdin" served as the basis for the many successful iterations that followed, including the feature-length Broadway show and the billion-dollar live-action movie?
Minkin: Well, in the case of the premiere (2017's "Beauty and the Beast"), then "Aladdin" and now "The Mermaid" (it will be Released next year)And the That's really not a huge advance…as (the film) animation is a Rosetta Stone, and it's just presses on a wheel that come out of that – which isn't conceptually speaking on my part. It's just the way the studio operates, the way each department operates. It also allows the director of each iteration to have more influence on how it differs from the animated (version).
With Broadway, I knew my agenda was that I wanted to get as many of the songs Howard originally wrote as possible, and I relied heavily on everyone to make sure the story reflected that. And I think it was a smart move. It wasn't just a sentimental gesture towards my late collaborator, but the magic and brilliance of Howard's work is one of the biggest attractions of our projects.