Some people rescue dogs. Some rescue cats. I save books.
It started innocently enough. Four years ago, we did a major relocation from Northern California to San Diego. And we needed to reduce our possessions for life.
For me, that meant eliminating decades of books. I sorted through years of club picks, personal favorites, and old USC textbooks. I've downsized our bloated bookcases, destabilized our staircases (thank you, Dean, for that storage idea) and ripped books out of bookcases full of beloved things but never to be read again.
We donate books to our public library. We've been given the books gifted to wanting (not willing) friends. I wanted to make sure my books reached loving homes or at least given a chance to be approved by the library.
Our new home in La Jolla is smaller and sweeter. It barely fit a single bookcase. At first, I was able to live in an almost unbooked apartment. I learned to enjoy audiobooks on CD while moving around the Bay Area. Now, I'm borrowing from cloud libraries in Three Counties as well as downloading from Audible. I also learned to love reading borrowed library books on my iPad, which was a better solution for traveling and even better for reading under the covers on sleepless nights.
But something funny is starting to happen in the new neighborhood. I've discovered many Little Free Libraries on my daily walks. Most of them are full of neglected and cumbersome volumes. But – oh my gosh – some of them are filled with the latest bestsellers, award-winning books and Nobel Prize-winning volumes.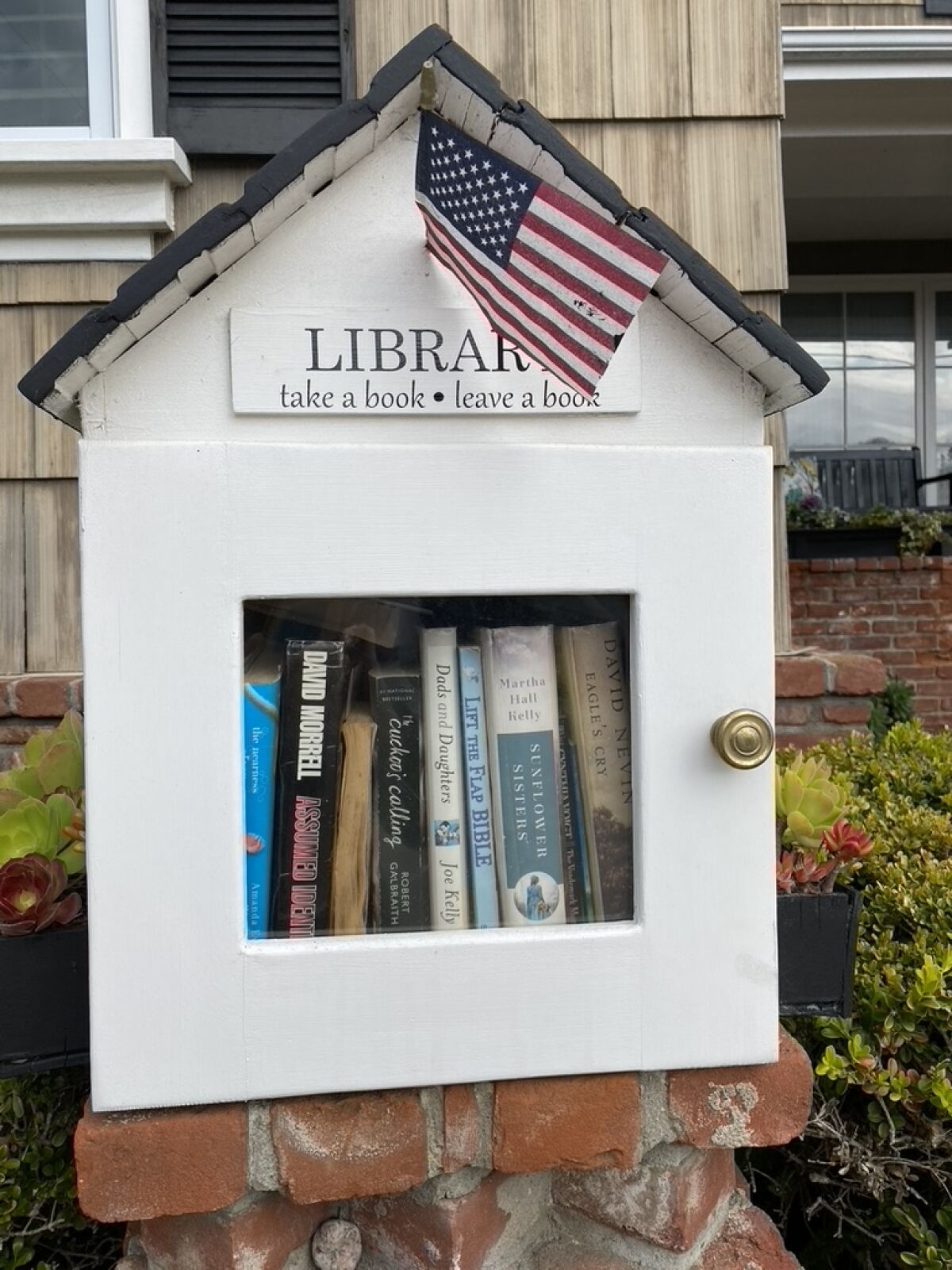 I can't commit to the idea of ​​great books spending their last days facing the elements, huddled in unheated LFL boxes on the neighbors' front lawns. So one day I took a book home. Then another. and another. Especially from one of those little book cages frequently fed by a well-read neighbourhood. I make sure to walk through the literature-filled weekly LFL.
Of course, I intend to read and then return all these precious volumes. But a lot of the time I don't get around to it because I'm reading and listening to other books online. Sometimes I re-book LFL. Especially if I don't like it. Other times, I lend it to others I know would love a particular novel.
My collection of salvaged books began to pile up under the coffee table, in the mounds on the floor of my desk, in the den and under my bed. But here they are safe and holding each other. I don't think they want to go back to their Spartan LFL bins. But I don't ask them either.
I don't just rescue abandoned books from street life. The La Jolla/Riford Library has a great selection of nicely read books that they sell for a stack or two each. In fact, I've just come back with three anthropomorphic books that I felt compelled to salvage. These books also deserve a loving and permanent home.
My $6 library tally: "Forest Dark" by Nicole Krause, "Clara and the Sun" by Kazuo Ishiguro, and "Here I Am" by Jonathan Safran Foer.
Each book is by an author whose past work moved me and brought me back. I just couldn't let them lie dishonorably among the lesser novels when I would certainly read them. Someday.
I am not addicted to books. I am a book savior. The sight of books makes me happy. I love wandering around bookstores. But I didn't get the extra pleasure of breaking my spine to completely new sizes. I got high with a little help from recovering pre-loved books sent out to pasture.
I don't judge why other people get rid of books. I know why I got rid of my Bay Area group. The reduction in transportation costs was justified. But I still feel guilty. And I still miss rotting heaps.
So I save the books. Stacks grow. And my little house was slowly but surely becoming more of a home—a welcoming place where books could live out the rest of their days with me.
– Mimi Sales is a La Jolla resident and blogger nobluehair.com. ◆