I play nearly 60% of my work every week in "cash games". Cash games refer to any competition in which approximately 50% of the field is paid, such as a head-to-head match, double up, or 50/50. I try to get as much excitement head on as possible every week and then supplement that with other cash games.
Each week, I will review my lineup of cash games in this space. I will lose sometimes, but I hope to win a lot. Either way, I'll post it here and give you my way of thinking.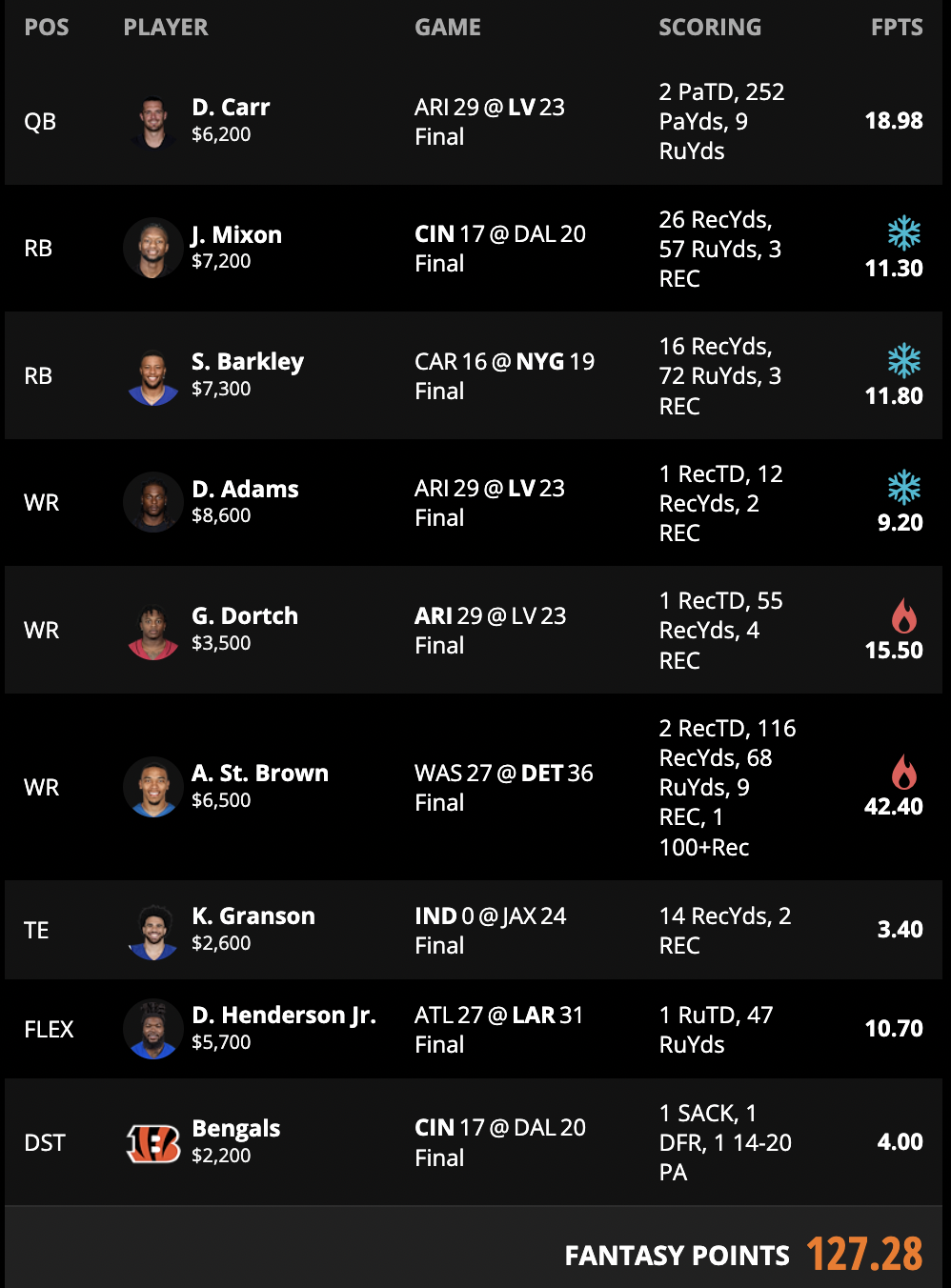 This was a relatively straightforward list. Unlike the first week, we had access to a lot of solid cheap value. There was also not much to get to on the expensive end, which set up clear balanced structures that had plenty of height. My goal wasn't to overspend on players just because I had the money – I wanted to make a big cap on as many points as possible.
must play
* I rarely consider D/ST to be a "must". But DraftKings released pricing for the second week before Dak Prescott was injured in the first Sunday Night Football. This means that Bengals D / ST It was $2200 (defense cash price range) against Cooper Rush. Also note that Brandon Thorne had the injured OL Cowboys ranked 19th this week.
* last week, I will be Barclay I was Approximately $6,100. Given how healthy he is and his unique role at three points plus the goal line, $7,300 at home against the Panthers was a lock. Simply put, there aren't many explosive runners who get all the early action, all the passing action, and all the goal line action. These players always cost $8,500 or more.
* The Cardinal has one of the worst second-teams in the league. Davant Adams Capable of capturing a target share of 45% as seen in the first week. The Raiders also lighted up some of the goal-line passes that made Adams such a unique fantasy WR in Green Bay. I didn't fade Adams at $8,600 at this place.
I want to play
* Amon-Ra Saint Brown It wasn't a lock in any way. It was relatively affordable at $6,500. But those who have been following since the summer know how I feel about The Sun God, his ability, his role, and how it fits in with what Jared Goff does so well.
I really wanted to be exposed to WAS-DET, as the Lions' combination of offensive ability and defensive incompetence generates shooting. So while I took a look at some of Jerry Jeudy's sets, I thought the ARSB sides were a good bit better for the money. It's really hard for St.
* It was important to understand the context of this week's pull-back list. There were at least six ROs that I thought were really strong critical plays, and a few more solid. In such places, I try not to spend all that time unless the spots are pure. And they weren't.
Given the injury-ridden Colts attack state as well as the streak crashing toward Jacksonville, I thought there was a good chance Jaguar would take control of the match. This is clearly not cool for Jonathan Taylor. And at $9,900, we have to be really picky.

And while I like Christian McCaffrey a lot, he was still on the road with a slightly more shaky passing role than he's been in the past.
The mid-range RB I liked the most was Joe Mixon, whose role in the passing game showed real signs of improvement in the first week. Considering that and the improved offensive line, Mixon's offensive environment plus the talent role was in addition to the elite role – especially the $7,200 price tag.
I preferred Mixon over Leonard Fournette, as the Bucs had a tough match with a brutally bad offensive streak and no Godwin/Julio. I also preferred Mixon over D'Andre Swift, who had an ankle problem. The Cardinals' underground offensive floor made me James Conner, and Jafonte Williams was a bit costly to reclaim the timeshare.
* The hardest spot on the list was Daryl Henderson. If you're a subscriber, we hope you'll read Top plays Sunday morning. I added a note there where a source told me Akers would have a bigger role in Week 2 than he did in Week 1. But even if the source is correct, Henderson made everything work for only $5,700, so I stayed with him. I wasn't willing to concede to the Sun God to get out of DHendo. Even at only 50% of RB's workload, Henderson had a decent role in that niche. We expected 63%.
*This was a very easy list on the narrow end. The squads I wanted to play had to save money eventually, and Travis Kelce wasn't around anyway. Mark Andrews or Darren Waller would have been nice, but the RBs and WRs I wanted to play at that range were stronger.
So I thought of only three tight ends: Joan Johnson, Kaelyn Granson, and Albert Okoigpunam. And I didn't feel the need to spend an extra $1,200 on Albert or after the Broncos threw the ball to four different tight ends in the first week.
That left Johnson against Granson. With Michael Bateman and Alec Pierce out, Granson's target competition was weaker. But Johnson had the better place against the passing pass defense. Both are expected to run a trajectory on a massive amount of retreating quarterback. In the end, I slightly preferred Granson for a chance in a more memorable role, but it was a flip of the coin.
* I just thought of two midfielders: Tre Lance and Derek Carr. I briefly thought about Lamar Jackson, but playing it meant I would have to sacrifice on a grand scale. And anytime soon, I prefer paying in QB instead of WR.

So I let the rest of my team and my team at 1 PM ET start dictating who I played between Lance and Carr. On this build, I had the money for Carr (it was $500 more). And since I got off to a good start with Amon-Ra St. Brown, I thought Carr's floor was better. If I had failed during the 1PM ET games, I might have switched on Lance to get the ceiling.
Results of the second week
I was fortunate to be able to land so easily on the Tri Lance. So I'll take that run well. I also think that in hindsight, perhaps listening to the information we had and coming down from Daryl Henderson was right. I also lost to Kellen Granson vs. Joan Johnson. But insisting that I need to get the Amon-Ra St. Brown was the key to booking another win. And while the results on Saquon, Mixon, and Davante were poor… their use would show the plays were right. So I feel relatively satisfied with the way I played this week, despite the worse result from the first week.

Year-to-date results
Week 1: 172.02 points, got 80.7% from head-to-head
Week 2: 127.28 points, 65.8% head-to-head win