FA Cup fourth round: Son scored a brace while Arnaut Danjuma got off the mark on his Spurts debut on an otherwise wet and dreary evening in Lancashire. Jamie Jackson reports from Deepdale …

","elementId":"d33007cd-20c5-49ce-9d66-9959ce787b0b"},{"_type":"model.dotcomrendering.pageElements.RichLinkBlockElement","url":"https://www.theguardian.com/football/2023/jan/28/preston-tottenham-fa-cup-fourth-round-match-report","text":"Son Heung-min's double sets Spurs on the way to FA Cup win over Preston","prefix":"Related: ","role":"thumbnail","elementId":"a4cda0a3-2a2b-4b4d-97cc-5f553d342944″}],"attributes":{"pinned":false,"keyEvent":true,"summary":false},"blockCreatedOn":1674936872000,"blockCreatedOnDisplay":"15.14 EST","blockLastUpdated":1674937226000,"blockLastUpdatedDisplay":"15.20 EST","blockFirstPublished":1674937227000,"blockFirstPublishedDisplay":"15.20 EST","blockFirstPublishedDisplayNoTimezone":"15.20″,"title":"Match report: Preston 0-3 Tottenham Hotspur","contributors":[],"primaryDateLine":"Sat 28 Jan 2023 15.20 EST","secondaryDateLine":"First published on Sat 28 Jan 2023 11.57 EST"},{"id":"63d57ca48f0828070504e65f","elements":[{"_type":"model.dotcomrendering.pageElements.TextBlockElement","html":"

Peep! Peep! Peeeeeeeeep! Referee Peter Bankes blows the final whistle and Tottenham Hotspur advance to the fifth round. It wasn't much of a game and the first half was particularly dreary, but two moments of second-half class from Heung-min Son put the game beyond Preston before Arnaut Danjuma came off the bench to score on his debut. Left on the bench for the duration of the game, Harry Kane will have to wait a little while longer to break the great Jimmy Greaves' Tottenham scoring record.

","elementId":"430ac566-0efb-40ce-9eb2-bced4eff1675″},{"_type":"model.dotcomrendering.pageElements.ImageBlockElement","media":{"allImages":[{"index":0,"fields":{"height":"2681″,"width":"2145″},"mediaType":"Image","mimeType":"image/jpeg","url":"https://media.guim.co.uk/4611cd0295c4a0701e0edeaaf338946b4f90ae8d/558_0_2145_2681/2145.jpg"},{"index":1,"fields":{"isMaster":"true","height":"2681″,"width":"2145″},"mediaType":"Image","mimeType":"image/jpeg","url":"https://media.guim.co.uk/4611cd0295c4a0701e0edeaaf338946b4f90ae8d/558_0_2145_2681/master/2145.jpg"},{"index":2,"fields":{"height":"2000″,"width":"1600″},"mediaType":"Image","mimeType":"image/jpeg","url":"https://media.guim.co.uk/4611cd0295c4a0701e0edeaaf338946b4f90ae8d/558_0_2145_2681/1600.jpg"},{"index":3,"fields":{"height":"1000″,"width":"800″},"mediaType":"Image","mimeType":"image/jpeg","url":"https://media.guim.co.uk/4611cd0295c4a0701e0edeaaf338946b4f90ae8d/558_0_2145_2681/800.jpg"},{"index":4,"fields":{"height":"500″,"width":"400″},"mediaType":"Image","mimeType":"image/jpeg","url":"https://media.guim.co.uk/4611cd0295c4a0701e0edeaaf338946b4f90ae8d/558_0_2145_2681/400.jpg"}]},"data":{"alt":"Arnaut Danjuma celebrates scoring their third goal.","caption":" Arnaut Danjuma celebrates scoring their third goal.","credit":"Photograph: Lee Smith/Action Images/Reuters"},"displayCredit":true,"role":"inline","imageSources":[{"weighting":"inline","srcSet":[{"src":"https://i.guim.co.uk/img/media/4611cd0295c4a0701e0edeaaf338946b4f90ae8d/558_0_2145_2681/master/2145.jpg?width=620&quality=85&auto=format&fit=max&s=6855bb89047c93658926e04faa1dc51a","width":620},{"src":"https://i.guim.co.uk/img/media/4611cd0295c4a0701e0edeaaf338946b4f90ae8d/558_0_2145_2681/master/2145.jpg?width=620&quality=45&auto=format&fit=max&dpr=2&s=0087d002faf456dc3b2d62fe1881bc62″,"width":1240},{"src":"https://i.guim.co.uk/img/media/4611cd0295c4a0701e0edeaaf338946b4f90ae8d/558_0_2145_2681/master/2145.jpg?width=605&quality=85&auto=format&fit=max&s=3f76fbc983b3bd94b793bf7fb6bb544c","width":605},{"src":"https://i.guim.co.uk/img/media/4611cd0295c4a0701e0edeaaf338946b4f90ae8d/558_0_2145_2681/master/2145.jpg?width=605&quality=45&auto=format&fit=max&dpr=2&s=62ad705f8e9776bf9c0fa99d823afd80″,"width":1210},{"src":"https://i.guim.co.uk/img/media/4611cd0295c4a0701e0edeaaf338946b4f90ae8d/558_0_2145_2681/master/2145.jpg?width=445&quality=85&auto=format&fit=max&s=b334c074e683fbf68c23ee582e70ce05″,"width":445},{"src":"https://i.guim.co.uk/img/media/4611cd0295c4a0701e0edeaaf338946b4f90ae8d/558_0_2145_2681/master/2145.jpg?width=445&quality=45&auto=format&fit=max&dpr=2&s=2c55c57b7b07f516cc88fe1618657c9e","width":890}]},{"weighting":"thumbnail","srcSet":[{"src":"https://i.guim.co.uk/img/media/4611cd0295c4a0701e0edeaaf338946b4f90ae8d/558_0_2145_2681/master/2145.jpg?width=140&quality=85&auto=format&fit=max&s=a321a325e6eeb3db4ec9e9cb5f3a81c5″,"width":140},{"src":"https://i.guim.co.uk/img/media/4611cd0295c4a0701e0edeaaf338946b4f90ae8d/558_0_2145_2681/master/2145.jpg?width=140&quality=45&auto=format&fit=max&dpr=2&s=890b0c79308a9ff088fdba849bf25b48″,"width":280},{"src":"https://i.guim.co.uk/img/media/4611cd0295c4a0701e0edeaaf338946b4f90ae8d/558_0_2145_2681/master/2145.jpg?width=120&quality=85&auto=format&fit=max&s=96b5270fbacf943d3c6c8b6fe0dc18d6″,"width":120},{"src":"https://i.guim.co.uk/img/media/4611cd0295c4a0701e0edeaaf338946b4f90ae8d/558_0_2145_2681/master/2145.jpg?width=120&quality=45&auto=format&fit=max&dpr=2&s=3d70d1f047b59f5a614de677d2b49af8″,"width":240}]},{"weighting":"supporting","srcSet":[{"src":"https://i.guim.co.uk/img/media/4611cd0295c4a0701e0edeaaf338946b4f90ae8d/558_0_2145_2681/master/2145.jpg?width=380&quality=85&auto=format&fit=max&s=80bf07343b4ae3c8c9d30a760715c501″,"width":380},{"src":"https://i.guim.co.uk/img/media/4611cd0295c4a0701e0edeaaf338946b4f90ae8d/558_0_2145_2681/master/2145.jpg?width=380&quality=45&auto=format&fit=max&dpr=2&s=1ac907d98e1a806e5e44c55878d7b64b","width":760},{"src":"https://i.guim.co.uk/img/media/4611cd0295c4a0701e0edeaaf338946b4f90ae8d/558_0_2145_2681/master/2145.jpg?width=300&quality=85&auto=format&fit=max&s=cbb2f9adbaf67fafc50d63156a1e5a45″,"width":300},{"src":"https://i.guim.co.uk/img/media/4611cd0295c4a0701e0edeaaf338946b4f90ae8d/558_0_2145_2681/master/2145.jpg?width=300&quality=45&auto=format&fit=max&dpr=2&s=2776c6e447017d031360e2cc60784e95″,"width":600},{"src":"https://i.guim.co.uk/img/media/4611cd0295c4a0701e0edeaaf338946b4f90ae8d/558_0_2145_2681/master/2145.jpg?width=620&quality=85&auto=format&fit=max&s=6855bb89047c93658926e04faa1dc51a","width":620},{"src":"https://i.guim.co.uk/img/media/4611cd0295c4a0701e0edeaaf338946b4f90ae8d/558_0_2145_2681/master/2145.jpg?width=620&quality=45&auto=format&fit=max&dpr=2&s=0087d002faf456dc3b2d62fe1881bc62″,"width":1240},{"src":"https://i.guim.co.uk/img/media/4611cd0295c4a0701e0edeaaf338946b4f90ae8d/558_0_2145_2681/master/2145.jpg?width=605&quality=85&auto=format&fit=max&s=3f76fbc983b3bd94b793bf7fb6bb544c","width":605},{"src":"https://i.guim.co.uk/img/media/4611cd0295c4a0701e0edeaaf338946b4f90ae8d/558_0_2145_2681/master/2145.jpg?width=605&quality=45&auto=format&fit=max&dpr=2&s=62ad705f8e9776bf9c0fa99d823afd80″,"width":1210},{"src":"https://i.guim.co.uk/img/media/4611cd0295c4a0701e0edeaaf338946b4f90ae8d/558_0_2145_2681/master/2145.jpg?width=445&quality=85&auto=format&fit=max&s=b334c074e683fbf68c23ee582e70ce05″,"width":445},{"src":"https://i.guim.co.uk/img/media/4611cd0295c4a0701e0edeaaf338946b4f90ae8d/558_0_2145_2681/master/2145.jpg?width=445&quality=45&auto=format&fit=max&dpr=2&s=2c55c57b7b07f516cc88fe1618657c9e","width":890}]},{"weighting":"showcase","srcSet":[{"src":"https://i.guim.co.uk/img/media/4611cd0295c4a0701e0edeaaf338946b4f90ae8d/558_0_2145_2681/master/2145.jpg?width=860&quality=85&auto=format&fit=max&s=4b005cb94d48beb6fff374b878c8c6fc","width":860},{"src":"https://i.guim.co.uk/img/media/4611cd0295c4a0701e0edeaaf338946b4f90ae8d/558_0_2145_2681/master/2145.jpg?width=860&quality=45&auto=format&fit=max&dpr=2&s=7c28378370de6ef6bc24931db8f02941″,"width":1720},{"src":"https://i.guim.co.uk/img/media/4611cd0295c4a0701e0edeaaf338946b4f90ae8d/558_0_2145_2681/master/2145.jpg?width=780&quality=85&auto=format&fit=max&s=e24c034b5485ba60e99b771eec2b8c02″,"width":780},{"src":"https://i.guim.co.uk/img/media/4611cd0295c4a0701e0edeaaf338946b4f90ae8d/558_0_2145_2681/master/2145.jpg?width=780&quality=45&auto=format&fit=max&dpr=2&s=da13ac1571abb47a0f6684d34d36ffdc","width":1560},{"src":"https://i.guim.co.uk/img/media/4611cd0295c4a0701e0edeaaf338946b4f90ae8d/558_0_2145_2681/master/2145.jpg?width=620&quality=85&auto=format&fit=max&s=6855bb89047c93658926e04faa1dc51a","width":620},{"src":"https://i.guim.co.uk/img/media/4611cd0295c4a0701e0edeaaf338946b4f90ae8d/558_0_2145_2681/master/2145.jpg?width=620&quality=45&auto=format&fit=max&dpr=2&s=0087d002faf456dc3b2d62fe1881bc62″,"width":1240},{"src":"https://i.guim.co.uk/img/media/4611cd0295c4a0701e0edeaaf338946b4f90ae8d/558_0_2145_2681/master/2145.jpg?width=605&quality=85&auto=format&fit=max&s=3f76fbc983b3bd94b793bf7fb6bb544c","width":605},{"src":"https://i.guim.co.uk/img/media/4611cd0295c4a0701e0edeaaf338946b4f90ae8d/558_0_2145_2681/master/2145.jpg?width=605&quality=45&auto=format&fit=max&dpr=2&s=62ad705f8e9776bf9c0fa99d823afd80″,"width":1210},{"src":"https://i.guim.co.uk/img/media/4611cd0295c4a0701e0edeaaf338946b4f90ae8d/558_0_2145_2681/master/2145.jpg?width=445&quality=85&auto=format&fit=max&s=b334c074e683fbf68c23ee582e70ce05″,"width":445},{"src":"https://i.guim.co.uk/img/media/4611cd0295c4a0701e0edeaaf338946b4f90ae8d/558_0_2145_2681/master/2145.jpg?width=445&quality=45&auto=format&fit=max&dpr=2&s=2c55c57b7b07f516cc88fe1618657c9e","width":890}]},{"weighting":"halfwidth","srcSet":[{"src":"https://i.guim.co.uk/img/media/4611cd0295c4a0701e0edeaaf338946b4f90ae8d/558_0_2145_2681/master/2145.jpg?width=620&quality=85&auto=format&fit=max&s=6855bb89047c93658926e04faa1dc51a","width":620},{"src":"https://i.guim.co.uk/img/media/4611cd0295c4a0701e0edeaaf338946b4f90ae8d/558_0_2145_2681/master/2145.jpg?width=620&quality=45&auto=format&fit=max&dpr=2&s=0087d002faf456dc3b2d62fe1881bc62″,"width":1240},{"src":"https://i.guim.co.uk/img/media/4611cd0295c4a0701e0edeaaf338946b4f90ae8d/558_0_2145_2681/master/2145.jpg?width=605&quality=85&auto=format&fit=max&s=3f76fbc983b3bd94b793bf7fb6bb544c","width":605},{"src":"https://i.guim.co.uk/img/media/4611cd0295c4a0701e0edeaaf338946b4f90ae8d/558_0_2145_2681/master/2145.jpg?width=605&quality=45&auto=format&fit=max&dpr=2&s=62ad705f8e9776bf9c0fa99d823afd80″,"width":1210},{"src":"https://i.guim.co.uk/img/media/4611cd0295c4a0701e0edeaaf338946b4f90ae8d/558_0_2145_2681/master/2145.jpg?width=445&quality=85&auto=format&fit=max&s=b334c074e683fbf68c23ee582e70ce05″,"width":445},{"src":"https://i.guim.co.uk/img/media/4611cd0295c4a0701e0edeaaf338946b4f90ae8d/558_0_2145_2681/master/2145.jpg?width=445&quality=45&auto=format&fit=max&dpr=2&s=2c55c57b7b07f516cc88fe1618657c9e","width":890}]},{"weighting":"immersive","srcSet":[{"src":"https://i.guim.co.uk/img/media/4611cd0295c4a0701e0edeaaf338946b4f90ae8d/558_0_2145_2681/master/2145.jpg?width=1900&quality=85&auto=format&fit=max&s=cdc4caa8bc0af163cc88d69fe4217f09″,"width":1900},{"src":"https://i.guim.co.uk/img/media/4611cd0295c4a0701e0edeaaf338946b4f90ae8d/558_0_2145_2681/master/2145.jpg?width=1900&quality=45&auto=format&fit=max&dpr=2&s=7f6fa041935f57cfb4cafb0c16d47dfe","width":3800},{"src":"https://i.guim.co.uk/img/media/4611cd0295c4a0701e0edeaaf338946b4f90ae8d/558_0_2145_2681/master/2145.jpg?width=1300&quality=85&auto=format&fit=max&s=63da4bbcdc608dc93dbcbfec13d7cd06″,"width":1300},{"src":"https://i.guim.co.uk/img/media/4611cd0295c4a0701e0edeaaf338946b4f90ae8d/558_0_2145_2681/master/2145.jpg?width=1300&quality=45&auto=format&fit=max&dpr=2&s=06cb0db44ae6c684c74a070bdbdbb86a","width":2600},{"src":"https://i.guim.co.uk/img/media/4611cd0295c4a0701e0edeaaf338946b4f90ae8d/558_0_2145_2681/master/2145.jpg?width=1140&quality=85&auto=format&fit=max&s=126b79d71ed89e29d96d12db9ab61480″,"width":1140},{"src":"https://i.guim.co.uk/img/media/4611cd0295c4a0701e0edeaaf338946b4f90ae8d/558_0_2145_2681/master/2145.jpg?width=1140&quality=45&auto=format&fit=max&dpr=2&s=68ffaf39f5e7d2d0a0c607c96ad9715a","width":2280},{"src":"https://i.guim.co.uk/img/media/4611cd0295c4a0701e0edeaaf338946b4f90ae8d/558_0_2145_2681/master/2145.jpg?width=980&quality=85&auto=format&fit=max&s=40a1b2248d2cb1f5555da5f3d3a8a9e5″,"width":980},{"src":"https://i.guim.co.uk/img/media/4611cd0295c4a0701e0edeaaf338946b4f90ae8d/558_0_2145_2681/master/2145.jpg?width=980&quality=45&auto=format&fit=max&dpr=2&s=a0fe8195b5330c42eeb9f641bde46614″,"width":1960},{"src":"https://i.guim.co.uk/img/media/4611cd0295c4a0701e0edeaaf338946b4f90ae8d/558_0_2145_2681/master/2145.jpg?width=740&quality=85&auto=format&fit=max&s=d5ec2d7d5c7b8e65e504eea66295c6b0″,"width":740},{"src":"https://i.guim.co.uk/img/media/4611cd0295c4a0701e0edeaaf338946b4f90ae8d/558_0_2145_2681/master/2145.jpg?width=740&quality=45&auto=format&fit=max&dpr=2&s=981221dd6b37f0ac300dea6801a667aa","width":1480},{"src":"https://i.guim.co.uk/img/media/4611cd0295c4a0701e0edeaaf338946b4f90ae8d/558_0_2145_2681/master/2145.jpg?width=660&quality=85&auto=format&fit=max&s=586e9d7a9548f0e9bcfd19c4297bb9d7″,"width":660},{"src":"https://i.guim.co.uk/img/media/4611cd0295c4a0701e0edeaaf338946b4f90ae8d/558_0_2145_2681/master/2145.jpg?width=660&quality=45&auto=format&fit=max&dpr=2&s=7adfd8b008cad387bbd485b9b63fc739″,"width":1320},{"src":"https://i.guim.co.uk/img/media/4611cd0295c4a0701e0edeaaf338946b4f90ae8d/558_0_2145_2681/master/2145.jpg?width=480&quality=85&auto=format&fit=max&s=50759821a34d639795ac33b791ce6de4″,"width":480},{"src":"https://i.guim.co.uk/img/media/4611cd0295c4a0701e0edeaaf338946b4f90ae8d/558_0_2145_2681/master/2145.jpg?width=480&quality=45&auto=format&fit=max&dpr=2&s=9f59e62188c5a6663c739b9c9897c09f","width":960}]}],"elementId":"f2b2870a-893e-44cf-b141-ab221c1ef064″}],"attributes":{"pinned":false,"keyEvent":true,"summary":false},"blockCreatedOn":1674935460000,"blockCreatedOnDisplay":"14.51 EST","blockLastUpdated":1674935768000,"blockLastUpdatedDisplay":"14.56 EST","blockFirstPublished":1674935658000,"blockFirstPublishedDisplay":"14.54 EST","blockFirstPublishedDisplayNoTimezone":"14.54″,"title":"Full time: Preston 0-3 Tottenham Hotspur","contributors":[],"primaryDateLine":"Sat 28 Jan 2023 15.20 EST","secondaryDateLine":"First published on Sat 28 Jan 2023 11.57 EST"},{"id":"63d57ada8f0828070504e656″,"elements":[{"_type":"model.dotcomrendering.pageElements.TextBlockElement","html":"

A debut goal for Arnaut Danjuma! The Dutch striker scuffs home from close range to find the bottom corner after connecting with a low Dejan Kulusevski cross from the right. His shot wasn't the cleanest but he won't care.

","elementId":"ddf4a5b1-241d-4061-82bf-83d167c116fb"},{"_type":"model.dotcomrendering.pageElements.ImageBlockElement","media":{"allImages":[{"index":0,"fields":{"height":"1447″,"width":"2412″},"mediaType":"Image","mimeType":"image/jpeg","url":"https://media.guim.co.uk/43641aacf8b7fe3714d348feae203aa31be7367f/0_108_2412_1447/2412.jpg"},{"index":1,"fields":{"isMaster":"true","height":"1447″,"width":"2412″},"mediaType":"Image","mimeType":"image/jpeg","url":"https://media.guim.co.uk/43641aacf8b7fe3714d348feae203aa31be7367f/0_108_2412_1447/master/2412.jpg"},{"index":2,"fields":{"height":"1200″,"width":"2000″},"mediaType":"Image","mimeType":"image/jpeg","url":"https://media.guim.co.uk/43641aacf8b7fe3714d348feae203aa31be7367f/0_108_2412_1447/2000.jpg"},{"index":3,"fields":{"height":"600″,"width":"1000″},"mediaType":"Image","mimeType":"image/jpeg","url":"https://media.guim.co.uk/43641aacf8b7fe3714d348feae203aa31be7367f/0_108_2412_1447/1000.jpg"},{"index":4,"fields":{"height":"300″,"width":"500″},"mediaType":"Image","mimeType":"image/jpeg","url":"https://media.guim.co.uk/43641aacf8b7fe3714d348feae203aa31be7367f/0_108_2412_1447/500.jpg"},{"index":5,"fields":{"height":"84″,"width":"140″},"mediaType":"Image","mimeType":"image/jpeg","url":"https://media.guim.co.uk/43641aacf8b7fe3714d348feae203aa31be7367f/0_108_2412_1447/140.jpg"}]},"data":{"alt":"Arnaut Danjuma of Tottenham Hotspur scores the third goal.","caption":" Arnaut Danjuma of Tottenham Hotspur scores the third goal.","credit":"Photograph: REX/Shutterstock"},"displayCredit":true,"role":"inline","imageSources":[{"weighting":"inline","srcSet":[{"src":"https://i.guim.co.uk/img/media/43641aacf8b7fe3714d348feae203aa31be7367f/0_108_2412_1447/master/2412.jpg?width=620&quality=85&auto=format&fit=max&s=82970c7b51fdc6c9d8c22c73311f8d5d","width":620},{"src":"https://i.guim.co.uk/img/media/43641aacf8b7fe3714d348feae203aa31be7367f/0_108_2412_1447/master/2412.jpg?width=620&quality=45&auto=format&fit=max&dpr=2&s=c9822a77eb180528c8b3d2aeb55de5ff","width":1240},{"src":"https://i.guim.co.uk/img/media/43641aacf8b7fe3714d348feae203aa31be7367f/0_108_2412_1447/master/2412.jpg?width=605&quality=85&auto=format&fit=max&s=dc4dfa708877c2344c1e2175727e08b5″,"width":605},{"src":"https://i.guim.co.uk/img/media/43641aacf8b7fe3714d348feae203aa31be7367f/0_108_2412_1447/master/2412.jpg?width=605&quality=45&auto=format&fit=max&dpr=2&s=0f186f932a2875ea13c8c5cd849cc5ae","width":1210},{"src":"https://i.guim.co.uk/img/media/43641aacf8b7fe3714d348feae203aa31be7367f/0_108_2412_1447/master/2412.jpg?width=445&quality=85&auto=format&fit=max&s=7780ea92e20a80af92994fd9ec4746ef","width":445},{"src":"https://i.guim.co.uk/img/media/43641aacf8b7fe3714d348feae203aa31be7367f/0_108_2412_1447/master/2412.jpg?width=445&quality=45&auto=format&fit=max&dpr=2&s=b1498b8c09aa45140d562e9bb4125fe0″,"width":890}]},{"weighting":"thumbnail","srcSet":[{"src":"https://i.guim.co.uk/img/media/43641aacf8b7fe3714d348feae203aa31be7367f/0_108_2412_1447/master/2412.jpg?width=140&quality=85&auto=format&fit=max&s=30b0252466b14d161b2965f6e176fd45″,"width":140},{"src":"https://i.guim.co.uk/img/media/43641aacf8b7fe3714d348feae203aa31be7367f/0_108_2412_1447/master/2412.jpg?width=140&quality=45&auto=format&fit=max&dpr=2&s=ba357dad0758d504dd944ed8e0ab7aea","width":280},{"src":"https://i.guim.co.uk/img/media/43641aacf8b7fe3714d348feae203aa31be7367f/0_108_2412_1447/master/2412.jpg?width=120&quality=85&auto=format&fit=max&s=f3575e7967d08d0a0e53f360b6708ff7″,"width":120},{"src":"https://i.guim.co.uk/img/media/43641aacf8b7fe3714d348feae203aa31be7367f/0_108_2412_1447/master/2412.jpg?width=120&quality=45&auto=format&fit=max&dpr=2&s=64d369b95e3ac30ec4297399096f9b03″,"width":240}]},{"weighting":"supporting","srcSet":[{"src":"https://i.guim.co.uk/img/media/43641aacf8b7fe3714d348feae203aa31be7367f/0_108_2412_1447/master/2412.jpg?width=380&quality=85&auto=format&fit=max&s=1b4c1264afefc7eb4bd10cb93a1cfb17″,"width":380},{"src":"https://i.guim.co.uk/img/media/43641aacf8b7fe3714d348feae203aa31be7367f/0_108_2412_1447/master/2412.jpg?width=380&quality=45&auto=format&fit=max&dpr=2&s=2203a4cdfb8fddbf0b2c5fc0743206f4″,"width":760},{"src":"https://i.guim.co.uk/img/media/43641aacf8b7fe3714d348feae203aa31be7367f/0_108_2412_1447/master/2412.jpg?width=300&quality=85&auto=format&fit=max&s=419824a0650769f3d984a04d43d2d7e6″,"width":300},{"src":"https://i.guim.co.uk/img/media/43641aacf8b7fe3714d348feae203aa31be7367f/0_108_2412_1447/master/2412.jpg?width=300&quality=45&auto=format&fit=max&dpr=2&s=463899cc5866bd3e07f14a7edb5e6a36″,"width":600},{"src":"https://i.guim.co.uk/img/media/43641aacf8b7fe3714d348feae203aa31be7367f/0_108_2412_1447/master/2412.jpg?width=620&quality=85&auto=format&fit=max&s=82970c7b51fdc6c9d8c22c73311f8d5d","width":620},{"src":"https://i.guim.co.uk/img/media/43641aacf8b7fe3714d348feae203aa31be7367f/0_108_2412_1447/master/2412.jpg?width=620&quality=45&auto=format&fit=max&dpr=2&s=c9822a77eb180528c8b3d2aeb55de5ff","width":1240},{"src":"https://i.guim.co.uk/img/media/43641aacf8b7fe3714d348feae203aa31be7367f/0_108_2412_1447/master/2412.jpg?width=605&quality=85&auto=format&fit=max&s=dc4dfa708877c2344c1e2175727e08b5″,"width":605},{"src":"https://i.guim.co.uk/img/media/43641aacf8b7fe3714d348feae203aa31be7367f/0_108_2412_1447/master/2412.jpg?width=605&quality=45&auto=format&fit=max&dpr=2&s=0f186f932a2875ea13c8c5cd849cc5ae","width":1210},{"src":"https://i.guim.co.uk/img/media/43641aacf8b7fe3714d348feae203aa31be7367f/0_108_2412_1447/master/2412.jpg?width=445&quality=85&auto=format&fit=max&s=7780ea92e20a80af92994fd9ec4746ef","width":445},{"src":"https://i.guim.co.uk/img/media/43641aacf8b7fe3714d348feae203aa31be7367f/0_108_2412_1447/master/2412.jpg?width=445&quality=45&auto=format&fit=max&dpr=2&s=b1498b8c09aa45140d562e9bb4125fe0″,"width":890}]},{"weighting":"showcase","srcSet":[{"src":"https://i.guim.co.uk/img/media/43641aacf8b7fe3714d348feae203aa31be7367f/0_108_2412_1447/master/2412.jpg?width=860&quality=85&auto=format&fit=max&s=cbedd2771a4681989cda450699cd9b7f","width":860},{"src":"https://i.guim.co.uk/img/media/43641aacf8b7fe3714d348feae203aa31be7367f/0_108_2412_1447/master/2412.jpg?width=860&quality=45&auto=format&fit=max&dpr=2&s=5710cd93c1ed5be34e789e15ae5e08b9″,"width":1720},{"src":"https://i.guim.co.uk/img/media/43641aacf8b7fe3714d348feae203aa31be7367f/0_108_2412_1447/master/2412.jpg?width=780&quality=85&auto=format&fit=max&s=c29aa149724ef36a5bffe0f21f3ca2a3″,"width":780},{"src":"https://i.guim.co.uk/img/media/43641aacf8b7fe3714d348feae203aa31be7367f/0_108_2412_1447/master/2412.jpg?width=780&quality=45&auto=format&fit=max&dpr=2&s=c7d40e4988af565d26e2d22e7b26ad2b","width":1560},{"src":"https://i.guim.co.uk/img/media/43641aacf8b7fe3714d348feae203aa31be7367f/0_108_2412_1447/master/2412.jpg?width=620&quality=85&auto=format&fit=max&s=82970c7b51fdc6c9d8c22c73311f8d5d","width":620},{"src":"https://i.guim.co.uk/img/media/43641aacf8b7fe3714d348feae203aa31be7367f/0_108_2412_1447/master/2412.jpg?width=620&quality=45&auto=format&fit=max&dpr=2&s=c9822a77eb180528c8b3d2aeb55de5ff","width":1240},{"src":"https://i.guim.co.uk/img/media/43641aacf8b7fe3714d348feae203aa31be7367f/0_108_2412_1447/master/2412.jpg?width=605&quality=85&auto=format&fit=max&s=dc4dfa708877c2344c1e2175727e08b5″,"width":605},{"src":"https://i.guim.co.uk/img/media/43641aacf8b7fe3714d348feae203aa31be7367f/0_108_2412_1447/master/2412.jpg?width=605&quality=45&auto=format&fit=max&dpr=2&s=0f186f932a2875ea13c8c5cd849cc5ae","width":1210},{"src":"https://i.guim.co.uk/img/media/43641aacf8b7fe3714d348feae203aa31be7367f/0_108_2412_1447/master/2412.jpg?width=445&quality=85&auto=format&fit=max&s=7780ea92e20a80af92994fd9ec4746ef","width":445},{"src":"https://i.guim.co.uk/img/media/43641aacf8b7fe3714d348feae203aa31be7367f/0_108_2412_1447/master/2412.jpg?width=445&quality=45&auto=format&fit=max&dpr=2&s=b1498b8c09aa45140d562e9bb4125fe0″,"width":890}]},{"weighting":"halfwidth","srcSet":[{"src":"https://i.guim.co.uk/img/media/43641aacf8b7fe3714d348feae203aa31be7367f/0_108_2412_1447/master/2412.jpg?width=620&quality=85&auto=format&fit=max&s=82970c7b51fdc6c9d8c22c73311f8d5d","width":620},{"src":"https://i.guim.co.uk/img/media/43641aacf8b7fe3714d348feae203aa31be7367f/0_108_2412_1447/master/2412.jpg?width=620&quality=45&auto=format&fit=max&dpr=2&s=c9822a77eb180528c8b3d2aeb55de5ff","width":1240},{"src":"https://i.guim.co.uk/img/media/43641aacf8b7fe3714d348feae203aa31be7367f/0_108_2412_1447/master/2412.jpg?width=605&quality=85&auto=format&fit=max&s=dc4dfa708877c2344c1e2175727e08b5″,"width":605},{"src":"https://i.guim.co.uk/img/media/43641aacf8b7fe3714d348feae203aa31be7367f/0_108_2412_1447/master/2412.jpg?width=605&quality=45&auto=format&fit=max&dpr=2&s=0f186f932a2875ea13c8c5cd849cc5ae","width":1210},{"src":"https://i.guim.co.uk/img/media/43641aacf8b7fe3714d348feae203aa31be7367f/0_108_2412_1447/master/2412.jpg?width=445&quality=85&auto=format&fit=max&s=7780ea92e20a80af92994fd9ec4746ef","width":445},{"src":"https://i.guim.co.uk/img/media/43641aacf8b7fe3714d348feae203aa31be7367f/0_108_2412_1447/master/2412.jpg?width=445&quality=45&auto=format&fit=max&dpr=2&s=b1498b8c09aa45140d562e9bb4125fe0″,"width":890}]},{"weighting":"immersive","srcSet":[{"src":"https://i.guim.co.uk/img/media/43641aacf8b7fe3714d348feae203aa31be7367f/0_108_2412_1447/master/2412.jpg?width=1900&quality=85&auto=format&fit=max&s=e1fdcb9f7f53b835a8bf18e498498ca0″,"width":1900},{"src":"https://i.guim.co.uk/img/media/43641aacf8b7fe3714d348feae203aa31be7367f/0_108_2412_1447/master/2412.jpg?width=1900&quality=45&auto=format&fit=max&dpr=2&s=d898c957cea69ebb00ded721ba3714d4″,"width":3800},{"src":"https://i.guim.co.uk/img/media/43641aacf8b7fe3714d348feae203aa31be7367f/0_108_2412_1447/master/2412.jpg?width=1300&quality=85&auto=format&fit=max&s=108755ec5727a4d4c6c2bd5f37d1ad93″,"width":1300},{"src":"https://i.guim.co.uk/img/media/43641aacf8b7fe3714d348feae203aa31be7367f/0_108_2412_1447/master/2412.jpg?width=1300&quality=45&auto=format&fit=max&dpr=2&s=73f4b0632b56c4f1a59f3ad6ce7e1b5a","width":2600},{"src":"https://i.guim.co.uk/img/media/43641aacf8b7fe3714d348feae203aa31be7367f/0_108_2412_1447/master/2412.jpg?width=1140&quality=85&auto=format&fit=max&s=3d2089aae15b71892001bc2384d85842″,"width":1140},{"src":"https://i.guim.co.uk/img/media/43641aacf8b7fe3714d348feae203aa31be7367f/0_108_2412_1447/master/2412.jpg?width=1140&quality=45&auto=format&fit=max&dpr=2&s=d8471982b163e1f874d5a6399af0bc1f","width":2280},{"src":"https://i.guim.co.uk/img/media/43641aacf8b7fe3714d348feae203aa31be7367f/0_108_2412_1447/master/2412.jpg?width=980&quality=85&auto=format&fit=max&s=64f47c2c43f3dbc1b959118c2a808b5c","width":980},{"src":"https://i.guim.co.uk/img/media/43641aacf8b7fe3714d348feae203aa31be7367f/0_108_2412_1447/master/2412.jpg?width=980&quality=45&auto=format&fit=max&dpr=2&s=7d39e0b38f9f4699c1e0b19cf1b30f7c","width":1960},{"src":"https://i.guim.co.uk/img/media/43641aacf8b7fe3714d348feae203aa31be7367f/0_108_2412_1447/master/2412.jpg?width=740&quality=85&auto=format&fit=max&s=ef9bf4493b28492adca9d897155a6245″,"width":740},{"src":"https://i.guim.co.uk/img/media/43641aacf8b7fe3714d348feae203aa31be7367f/0_108_2412_1447/master/2412.jpg?width=740&quality=45&auto=format&fit=max&dpr=2&s=2427b43725453ad8d1f27f5ebaabfce2″,"width":1480},{"src":"https://i.guim.co.uk/img/media/43641aacf8b7fe3714d348feae203aa31be7367f/0_108_2412_1447/master/2412.jpg?width=660&quality=85&auto=format&fit=max&s=82592ef3abf0abd40a995071f1a72f6c","width":660},{"src":"https://i.guim.co.uk/img/media/43641aacf8b7fe3714d348feae203aa31be7367f/0_108_2412_1447/master/2412.jpg?width=660&quality=45&auto=format&fit=max&dpr=2&s=28e04acdb65a1059d3e6bc868b706389″,"width":1320},{"src":"https://i.guim.co.uk/img/media/43641aacf8b7fe3714d348feae203aa31be7367f/0_108_2412_1447/master/2412.jpg?width=480&quality=85&auto=format&fit=max&s=43e70fe2da8f65d5ad783396b5ad4804″,"width":480},{"src":"https://i.guim.co.uk/img/media/43641aacf8b7fe3714d348feae203aa31be7367f/0_108_2412_1447/master/2412.jpg?width=480&quality=45&auto=format&fit=max&dpr=2&s=75adb7169d917eba3d834d8dc074742a","width":960}]}],"elementId":"50ff5003-f95d-425b-948c-c824f481eb25″}],"attributes":{"pinned":false,"keyEvent":true,"summary":false},"blockCreatedOn":1674935002000,"blockCreatedOnDisplay":"14.43 EST","blockLastUpdated":1674935506000,"blockLastUpdatedDisplay":"14.51 EST","blockFirstPublished":1674935187000,"blockFirstPublishedDisplay":"14.46 EST","blockFirstPublishedDisplayNoTimezone":"14.46″,"title":"GOAL! Preston 0-3 Tottenham Hotspur (Danjuma 87)","contributors":[],"primaryDateLine":"Sat 28 Jan 2023 15.20 EST","secondaryDateLine":"First published on Sat 28 Jan 2023 11.57 EST"},{"id":"63d5769d8f0834851fb03193″,"elements":[{"_type":"model.dotcomrendering.pageElements.TextBlockElement","html":"

Spurs double their lead. With his back to goal in the Preston penalty area, Son takes a fine pass around the corner from Perisic. With a deft turn, he sends Preston defender Jordan Storey skittering into the Deepdale car-park before shooting past Freddie Woodman.

","elementId":"881075b2-61d6-4a30-bba7-9de310ec6c31″},{"_type":"model.dotcomrendering.pageElements.ImageBlockElement","media":{"allImages":[{"index":0,"fields":{"height":"2192″,"width":"3654″},"mediaType":"Image","mimeType":"image/jpeg","url":"https://media.guim.co.uk/9bc5e213fccb6b070126a0563552ff6e0d43709a/2_233_3654_2192/3654.jpg"},{"index":1,"fields":{"isMaster":"true","height":"2192″,"width":"3654″},"mediaType":"Image","mimeType":"image/jpeg","url":"https://media.guim.co.uk/9bc5e213fccb6b070126a0563552ff6e0d43709a/2_233_3654_2192/master/3654.jpg"},{"index":2,"fields":{"height":"1200″,"width":"2000″},"mediaType":"Image","mimeType":"image/jpeg","url":"https://media.guim.co.uk/9bc5e213fccb6b070126a0563552ff6e0d43709a/2_233_3654_2192/2000.jpg"},{"index":3,"fields":{"height":"600″,"width":"1000″},"mediaType":"Image","mimeType":"image/jpeg","url":"https://media.guim.co.uk/9bc5e213fccb6b070126a0563552ff6e0d43709a/2_233_3654_2192/1000.jpg"},{"index":4,"fields":{"height":"300″,"width":"500″},"mediaType":"Image","mimeType":"image/jpeg","url":"https://media.guim.co.uk/9bc5e213fccb6b070126a0563552ff6e0d43709a/2_233_3654_2192/500.jpg"},{"index":5,"fields":{"height":"84″,"width":"140″},"mediaType":"Image","mimeType":"image/jpeg","url":"https://media.guim.co.uk/9bc5e213fccb6b070126a0563552ff6e0d43709a/2_233_3654_2192/140.jpg"}]},"data":{"alt":"At the double: Son Heung-min of Tottenham Hotspur scores his 2nd goal .","caption":"At the double: Son Heung-min of Tottenham Hotspur scores his 2nd goal .","credit":"Photograph: REX/Shutterstock"},"displayCredit":true,"role":"inline","imageSources":[{"weighting":"inline","srcSet":[{"src":"https://i.guim.co.uk/img/media/9bc5e213fccb6b070126a0563552ff6e0d43709a/2_233_3654_2192/master/3654.jpg?width=620&quality=85&auto=format&fit=max&s=014f2e4596c73702b290da413eafa1ec","width":620},{"src":"https://i.guim.co.uk/img/media/9bc5e213fccb6b070126a0563552ff6e0d43709a/2_233_3654_2192/master/3654.jpg?width=620&quality=45&auto=format&fit=max&dpr=2&s=29b268fca93433740d2946b89ea95df3″,"width":1240},{"src":"https://i.guim.co.uk/img/media/9bc5e213fccb6b070126a0563552ff6e0d43709a/2_233_3654_2192/master/3654.jpg?width=605&quality=85&auto=format&fit=max&s=6b45782723da1636fad864bdfd20d051″,"width":605},{"src":"https://i.guim.co.uk/img/media/9bc5e213fccb6b070126a0563552ff6e0d43709a/2_233_3654_2192/master/3654.jpg?width=605&quality=45&auto=format&fit=max&dpr=2&s=990584d1e72835d389905e3dbd27b27e","width":1210},{"src":"https://i.guim.co.uk/img/media/9bc5e213fccb6b070126a0563552ff6e0d43709a/2_233_3654_2192/master/3654.jpg?width=445&quality=85&auto=format&fit=max&s=f825f90fb0acda0d5c79126f483eb066″,"width":445},{"src":"https://i.guim.co.uk/img/media/9bc5e213fccb6b070126a0563552ff6e0d43709a/2_233_3654_2192/master/3654.jpg?width=445&quality=45&auto=format&fit=max&dpr=2&s=4ae0cc30bc7f012e3ea8d2654a2346d1″,"width":890}]},{"weighting":"thumbnail","srcSet":[{"src":"https://i.guim.co.uk/img/media/9bc5e213fccb6b070126a0563552ff6e0d43709a/2_233_3654_2192/master/3654.jpg?width=140&quality=85&auto=format&fit=max&s=3cf4a0ddba870b67be4fa5a00d3092e9″,"width":140},{"src":"https://i.guim.co.uk/img/media/9bc5e213fccb6b070126a0563552ff6e0d43709a/2_233_3654_2192/master/3654.jpg?width=140&quality=45&auto=format&fit=max&dpr=2&s=423d6f92571329d455231cf76b2f9fe5″,"width":280},{"src":"https://i.guim.co.uk/img/media/9bc5e213fccb6b070126a0563552ff6e0d43709a/2_233_3654_2192/master/3654.jpg?width=120&quality=85&auto=format&fit=max&s=55174253c68e3292943e7b7c32705b55″,"width":120},{"src":"https://i.guim.co.uk/img/media/9bc5e213fccb6b070126a0563552ff6e0d43709a/2_233_3654_2192/master/3654.jpg?width=120&quality=45&auto=format&fit=max&dpr=2&s=40241ddb6db48c10d034bf7f5acc07bb","width":240}]},{"weighting":"supporting","srcSet":[{"src":"https://i.guim.co.uk/img/media/9bc5e213fccb6b070126a0563552ff6e0d43709a/2_233_3654_2192/master/3654.jpg?width=380&quality=85&auto=format&fit=max&s=a65a5705f550ab24f830741154790725″,"width":380},{"src":"https://i.guim.co.uk/img/media/9bc5e213fccb6b070126a0563552ff6e0d43709a/2_233_3654_2192/master/3654.jpg?width=380&quality=45&auto=format&fit=max&dpr=2&s=a6d25f42328e6f6ed7b2bbaf065e6381″,"width":760},{"src":"https://i.guim.co.uk/img/media/9bc5e213fccb6b070126a0563552ff6e0d43709a/2_233_3654_2192/master/3654.jpg?width=300&quality=85&auto=format&fit=max&s=e0be8a6b4216e4f8d4e20048644e64ca","width":300},{"src":"https://i.guim.co.uk/img/media/9bc5e213fccb6b070126a0563552ff6e0d43709a/2_233_3654_2192/master/3654.jpg?width=300&quality=45&auto=format&fit=max&dpr=2&s=d20a369c518d80e4c5255a57b849b1a9″,"width":600},{"src":"https://i.guim.co.uk/img/media/9bc5e213fccb6b070126a0563552ff6e0d43709a/2_233_3654_2192/master/3654.jpg?width=620&quality=85&auto=format&fit=max&s=014f2e4596c73702b290da413eafa1ec","width":620},{"src":"https://i.guim.co.uk/img/media/9bc5e213fccb6b070126a0563552ff6e0d43709a/2_233_3654_2192/master/3654.jpg?width=620&quality=45&auto=format&fit=max&dpr=2&s=29b268fca93433740d2946b89ea95df3″,"width":1240},{"src":"https://i.guim.co.uk/img/media/9bc5e213fccb6b070126a0563552ff6e0d43709a/2_233_3654_2192/master/3654.jpg?width=605&quality=85&auto=format&fit=max&s=6b45782723da1636fad864bdfd20d051″,"width":605},{"src":"https://i.guim.co.uk/img/media/9bc5e213fccb6b070126a0563552ff6e0d43709a/2_233_3654_2192/master/3654.jpg?width=605&quality=45&auto=format&fit=max&dpr=2&s=990584d1e72835d389905e3dbd27b27e","width":1210},{"src":"https://i.guim.co.uk/img/media/9bc5e213fccb6b070126a0563552ff6e0d43709a/2_233_3654_2192/master/3654.jpg?width=445&quality=85&auto=format&fit=max&s=f825f90fb0acda0d5c79126f483eb066″,"width":445},{"src":"https://i.guim.co.uk/img/media/9bc5e213fccb6b070126a0563552ff6e0d43709a/2_233_3654_2192/master/3654.jpg?width=445&quality=45&auto=format&fit=max&dpr=2&s=4ae0cc30bc7f012e3ea8d2654a2346d1″,"width":890}]},{"weighting":"showcase","srcSet":[{"src":"https://i.guim.co.uk/img/media/9bc5e213fccb6b070126a0563552ff6e0d43709a/2_233_3654_2192/master/3654.jpg?width=860&quality=85&auto=format&fit=max&s=b01f01b2894b5bf9cb8069365cb652b4″,"width":860},{"src":"https://i.guim.co.uk/img/media/9bc5e213fccb6b070126a0563552ff6e0d43709a/2_233_3654_2192/master/3654.jpg?width=860&quality=45&auto=format&fit=max&dpr=2&s=b3fb48b942d17e3a32858dac5f57148c","width":1720},{"src":"https://i.guim.co.uk/img/media/9bc5e213fccb6b070126a0563552ff6e0d43709a/2_233_3654_2192/master/3654.jpg?width=780&quality=85&auto=format&fit=max&s=d9f1b790916ee847e4231f066a9f5f85″,"width":780},{"src":"https://i.guim.co.uk/img/media/9bc5e213fccb6b070126a0563552ff6e0d43709a/2_233_3654_2192/master/3654.jpg?width=780&quality=45&auto=format&fit=max&dpr=2&s=922b17b4d2cad12f4ebfea4cd182f6ff","width":1560},{"src":"https://i.guim.co.uk/img/media/9bc5e213fccb6b070126a0563552ff6e0d43709a/2_233_3654_2192/master/3654.jpg?width=620&quality=85&auto=format&fit=max&s=014f2e4596c73702b290da413eafa1ec","width":620},{"src":"https://i.guim.co.uk/img/media/9bc5e213fccb6b070126a0563552ff6e0d43709a/2_233_3654_2192/master/3654.jpg?width=620&quality=45&auto=format&fit=max&dpr=2&s=29b268fca93433740d2946b89ea95df3″,"width":1240},{"src":"https://i.guim.co.uk/img/media/9bc5e213fccb6b070126a0563552ff6e0d43709a/2_233_3654_2192/master/3654.jpg?width=605&quality=85&auto=format&fit=max&s=6b45782723da1636fad864bdfd20d051″,"width":605},{"src":"https://i.guim.co.uk/img/media/9bc5e213fccb6b070126a0563552ff6e0d43709a/2_233_3654_2192/master/3654.jpg?width=605&quality=45&auto=format&fit=max&dpr=2&s=990584d1e72835d389905e3dbd27b27e","width":1210},{"src":"https://i.guim.co.uk/img/media/9bc5e213fccb6b070126a0563552ff6e0d43709a/2_233_3654_2192/master/3654.jpg?width=445&quality=85&auto=format&fit=max&s=f825f90fb0acda0d5c79126f483eb066″,"width":445},{"src":"https://i.guim.co.uk/img/media/9bc5e213fccb6b070126a0563552ff6e0d43709a/2_233_3654_2192/master/3654.jpg?width=445&quality=45&auto=format&fit=max&dpr=2&s=4ae0cc30bc7f012e3ea8d2654a2346d1″,"width":890}]},{"weighting":"halfwidth","srcSet":[{"src":"https://i.guim.co.uk/img/media/9bc5e213fccb6b070126a0563552ff6e0d43709a/2_233_3654_2192/master/3654.jpg?width=620&quality=85&auto=format&fit=max&s=014f2e4596c73702b290da413eafa1ec","width":620},{"src":"https://i.guim.co.uk/img/media/9bc5e213fccb6b070126a0563552ff6e0d43709a/2_233_3654_2192/master/3654.jpg?width=620&quality=45&auto=format&fit=max&dpr=2&s=29b268fca93433740d2946b89ea95df3″,"width":1240},{"src":"https://i.guim.co.uk/img/media/9bc5e213fccb6b070126a0563552ff6e0d43709a/2_233_3654_2192/master/3654.jpg?width=605&quality=85&auto=format&fit=max&s=6b45782723da1636fad864bdfd20d051″,"width":605},{"src":"https://i.guim.co.uk/img/media/9bc5e213fccb6b070126a0563552ff6e0d43709a/2_233_3654_2192/master/3654.jpg?width=605&quality=45&auto=format&fit=max&dpr=2&s=990584d1e72835d389905e3dbd27b27e","width":1210},{"src":"https://i.guim.co.uk/img/media/9bc5e213fccb6b070126a0563552ff6e0d43709a/2_233_3654_2192/master/3654.jpg?width=445&quality=85&auto=format&fit=max&s=f825f90fb0acda0d5c79126f483eb066″,"width":445},{"src":"https://i.guim.co.uk/img/media/9bc5e213fccb6b070126a0563552ff6e0d43709a/2_233_3654_2192/master/3654.jpg?width=445&quality=45&auto=format&fit=max&dpr=2&s=4ae0cc30bc7f012e3ea8d2654a2346d1″,"width":890}]},{"weighting":"immersive","srcSet":[{"src":"https://i.guim.co.uk/img/media/9bc5e213fccb6b070126a0563552ff6e0d43709a/2_233_3654_2192/master/3654.jpg?width=1900&quality=85&auto=format&fit=max&s=6d0300c13c5edcecf0aa123ea55e1633″,"width":1900},{"src":"https://i.guim.co.uk/img/media/9bc5e213fccb6b070126a0563552ff6e0d43709a/2_233_3654_2192/master/3654.jpg?width=1900&quality=45&auto=format&fit=max&dpr=2&s=8d86126909aebfe76867c13c5daf4afc","width":3800},{"src":"https://i.guim.co.uk/img/media/9bc5e213fccb6b070126a0563552ff6e0d43709a/2_233_3654_2192/master/3654.jpg?width=1300&quality=85&auto=format&fit=max&s=47f4f9f1f2be78e69e843819eba6de20″,"width":1300},{"src":"https://i.guim.co.uk/img/media/9bc5e213fccb6b070126a0563552ff6e0d43709a/2_233_3654_2192/master/3654.jpg?width=1300&quality=45&auto=format&fit=max&dpr=2&s=9312062510d2909014a177652d268e3f","width":2600},{"src":"https://i.guim.co.uk/img/media/9bc5e213fccb6b070126a0563552ff6e0d43709a/2_233_3654_2192/master/3654.jpg?width=1140&quality=85&auto=format&fit=max&s=da3533477706e9a674068754ace14c29″,"width":1140},{"src":"https://i.guim.co.uk/img/media/9bc5e213fccb6b070126a0563552ff6e0d43709a/2_233_3654_2192/master/3654.jpg?width=1140&quality=45&auto=format&fit=max&dpr=2&s=d6e64e6df3b2e338246613ff258407bb","width":2280},{"src":"https://i.guim.co.uk/img/media/9bc5e213fccb6b070126a0563552ff6e0d43709a/2_233_3654_2192/master/3654.jpg?width=980&quality=85&auto=format&fit=max&s=5c70205b6499af47dacb70cee9398b4d","width":980},{"src":"https://i.guim.co.uk/img/media/9bc5e213fccb6b070126a0563552ff6e0d43709a/2_233_3654_2192/master/3654.jpg?width=980&quality=45&auto=format&fit=max&dpr=2&s=132bca9a042c8250adc892739fa1f2ce","width":1960},{"src":"https://i.guim.co.uk/img/media/9bc5e213fccb6b070126a0563552ff6e0d43709a/2_233_3654_2192/master/3654.jpg?width=740&quality=85&auto=format&fit=max&s=1dcc78e8ca782564ffd5e258ea2a647e","width":740},{"src":"https://i.guim.co.uk/img/media/9bc5e213fccb6b070126a0563552ff6e0d43709a/2_233_3654_2192/master/3654.jpg?width=740&quality=45&auto=format&fit=max&dpr=2&s=d83c1e3240e527ea977efb272a44b839″,"width":1480},{"src":"https://i.guim.co.uk/img/media/9bc5e213fccb6b070126a0563552ff6e0d43709a/2_233_3654_2192/master/3654.jpg?width=660&quality=85&auto=format&fit=max&s=6b9fb4a106850b95f5b6ab52ac5080d9″,"width":660},{"src":"https://i.guim.co.uk/img/media/9bc5e213fccb6b070126a0563552ff6e0d43709a/2_233_3654_2192/master/3654.jpg?width=660&quality=45&auto=format&fit=max&dpr=2&s=832df1ccc5334329c66067941d5b1f42″,"width":1320},{"src":"https://i.guim.co.uk/img/media/9bc5e213fccb6b070126a0563552ff6e0d43709a/2_233_3654_2192/master/3654.jpg?width=480&quality=85&auto=format&fit=max&s=4b5091ae38a5a660a4353c3b73651cc2″,"width":480},{"src":"https://i.guim.co.uk/img/media/9bc5e213fccb6b070126a0563552ff6e0d43709a/2_233_3654_2192/master/3654.jpg?width=480&quality=45&auto=format&fit=max&dpr=2&s=7ada45e0e09ba657d767c2756f036e18″,"width":960}]}],"elementId":"68e7d3f9-2f18-4363-8967-190b6b66bcc3″}],"attributes":{"pinned":false,"keyEvent":true,"summary":false},"blockCreatedOn":1674933917000,"blockCreatedOnDisplay":"14.25 EST","blockLastUpdated":1674934321000,"blockLastUpdatedDisplay":"14.32 EST","blockFirstPublished":1674934067000,"blockFirstPublishedDisplay":"14.27 EST","blockFirstPublishedDisplayNoTimezone":"14.27″,"title":"Goal! Preston 0-2 Tottenham (Son 69)","contributors":[],"primaryDateLine":"Sat 28 Jan 2023 15.20 EST","secondaryDateLine":"First published on Sat 28 Jan 2023 11.57 EST"},{"id":"63d5725c8f085c034debccba","elements":[{"_type":"model.dotcomrendering.pageElements.TextBlockElement","html":"

Spurs lead! It's third time lucky for Son, who whips a curling, long-range, left-footed effort into the bottom corner from at least 25 yards out. Freddie Woodman saw his shot late and didn't get near it.

","elementId":"87aa9a0e-13a8-494b-988b-f8922b8bdc4d"},{"_type":"model.dotcomrendering.pageElements.ImageBlockElement","media":{"allImages":[{"index":0,"fields":{"height":"1799″,"width":"2997″},"mediaType":"Image","mimeType":"image/jpeg","url":"https://media.guim.co.uk/0e9817f4124ed67d56bc78ae32179e21d11323bf/83_141_2997_1799/2997.jpg"},{"index":1,"fields":{"isMaster":"true","height":"1799″,"width":"2997″},"mediaType":"Image","mimeType":"image/jpeg","url":"https://media.guim.co.uk/0e9817f4124ed67d56bc78ae32179e21d11323bf/83_141_2997_1799/master/2997.jpg"},{"index":2,"fields":{"height":"1200″,"width":"2000″},"mediaType":"Image","mimeType":"image/jpeg","url":"https://media.guim.co.uk/0e9817f4124ed67d56bc78ae32179e21d11323bf/83_141_2997_1799/2000.jpg"},{"index":3,"fields":{"height":"600″,"width":"1000″},"mediaType":"Image","mimeType":"image/jpeg","url":"https://media.guim.co.uk/0e9817f4124ed67d56bc78ae32179e21d11323bf/83_141_2997_1799/1000.jpg"},{"index":4,"fields":{"height":"300″,"width":"500″},"mediaType":"Image","mimeType":"image/jpeg","url":"https://media.guim.co.uk/0e9817f4124ed67d56bc78ae32179e21d11323bf/83_141_2997_1799/500.jpg"},{"index":5,"fields":{"height":"84″,"width":"140″},"mediaType":"Image","mimeType":"image/jpeg","url":"https://media.guim.co.uk/0e9817f4124ed67d56bc78ae32179e21d11323bf/83_141_2997_1799/140.jpg"}]},"data":{"alt":"Sweet as a nut: Son Heung-min of Tottenham Hotspur scores the opening goal .","caption":"Sweet as a nut: Son Heung-min of Tottenham Hotspur scores the opening goal .","credit":"Photograph: REX/Shutterstock"},"displayCredit":true,"role":"inline","imageSources":[{"weighting":"inline","srcSet":[{"src":"https://i.guim.co.uk/img/media/0e9817f4124ed67d56bc78ae32179e21d11323bf/83_141_2997_1799/master/2997.jpg?width=620&quality=85&auto=format&fit=max&s=9f679e9e7bd0845b6cd3f39c0f7bf59c","width":620},{"src":"https://i.guim.co.uk/img/media/0e9817f4124ed67d56bc78ae32179e21d11323bf/83_141_2997_1799/master/2997.jpg?width=620&quality=45&auto=format&fit=max&dpr=2&s=c23cb1735b4716ff73c91fd5e4909115″,"width":1240},{"src":"https://i.guim.co.uk/img/media/0e9817f4124ed67d56bc78ae32179e21d11323bf/83_141_2997_1799/master/2997.jpg?width=605&quality=85&auto=format&fit=max&s=9d0df5bc34329225dd97fa8048daa0c0″,"width":605},{"src":"https://i.guim.co.uk/img/media/0e9817f4124ed67d56bc78ae32179e21d11323bf/83_141_2997_1799/master/2997.jpg?width=605&quality=45&auto=format&fit=max&dpr=2&s=3cf568dc371c902de01e8ea9f8709a03″,"width":1210},{"src":"https://i.guim.co.uk/img/media/0e9817f4124ed67d56bc78ae32179e21d11323bf/83_141_2997_1799/master/2997.jpg?width=445&quality=85&auto=format&fit=max&s=1d6e5ce13f1a7b72c8d0e449d761a597″,"width":445},{"src":"https://i.guim.co.uk/img/media/0e9817f4124ed67d56bc78ae32179e21d11323bf/83_141_2997_1799/master/2997.jpg?width=445&quality=45&auto=format&fit=max&dpr=2&s=d9d2cb68c30735a65a0cf257ac4930e7″,"width":890}]},{"weighting":"thumbnail","srcSet":[{"src":"https://i.guim.co.uk/img/media/0e9817f4124ed67d56bc78ae32179e21d11323bf/83_141_2997_1799/master/2997.jpg?width=140&quality=85&auto=format&fit=max&s=435a530d98a32e84099a7c605508b8a8″,"width":140},{"src":"https://i.guim.co.uk/img/media/0e9817f4124ed67d56bc78ae32179e21d11323bf/83_141_2997_1799/master/2997.jpg?width=140&quality=45&auto=format&fit=max&dpr=2&s=2b9c285233ebfc19693ad898011e4aa8″,"width":280},{"src":"https://i.guim.co.uk/img/media/0e9817f4124ed67d56bc78ae32179e21d11323bf/83_141_2997_1799/master/2997.jpg?width=120&quality=85&auto=format&fit=max&s=bb8e2cbbdc67a016be2a739cd18dced1″,"width":120},{"src":"https://i.guim.co.uk/img/media/0e9817f4124ed67d56bc78ae32179e21d11323bf/83_141_2997_1799/master/2997.jpg?width=120&quality=45&auto=format&fit=max&dpr=2&s=374712522d0d964998e8eee962ec7bb3″,"width":240}]},{"weighting":"supporting","srcSet":[{"src":"https://i.guim.co.uk/img/media/0e9817f4124ed67d56bc78ae32179e21d11323bf/83_141_2997_1799/master/2997.jpg?width=380&quality=85&auto=format&fit=max&s=59b772a0d30421693283c49289d23245″,"width":380},{"src":"https://i.guim.co.uk/img/media/0e9817f4124ed67d56bc78ae32179e21d11323bf/83_141_2997_1799/master/2997.jpg?width=380&quality=45&auto=format&fit=max&dpr=2&s=6bcafef6423b77db1198da615a46eae8″,"width":760},{"src":"https://i.guim.co.uk/img/media/0e9817f4124ed67d56bc78ae32179e21d11323bf/83_141_2997_1799/master/2997.jpg?width=300&quality=85&auto=format&fit=max&s=33a7df81c6bdfa534381e04374d5824f","width":300},{"src":"https://i.guim.co.uk/img/media/0e9817f4124ed67d56bc78ae32179e21d11323bf/83_141_2997_1799/master/2997.jpg?width=300&quality=45&auto=format&fit=max&dpr=2&s=abe420e3645a1e05cc8ad4c9246a9402″,"width":600},{"src":"https://i.guim.co.uk/img/media/0e9817f4124ed67d56bc78ae32179e21d11323bf/83_141_2997_1799/master/2997.jpg?width=620&quality=85&auto=format&fit=max&s=9f679e9e7bd0845b6cd3f39c0f7bf59c","width":620},{"src":"https://i.guim.co.uk/img/media/0e9817f4124ed67d56bc78ae32179e21d11323bf/83_141_2997_1799/master/2997.jpg?width=620&quality=45&auto=format&fit=max&dpr=2&s=c23cb1735b4716ff73c91fd5e4909115″,"width":1240},{"src":"https://i.guim.co.uk/img/media/0e9817f4124ed67d56bc78ae32179e21d11323bf/83_141_2997_1799/master/2997.jpg?width=605&quality=85&auto=format&fit=max&s=9d0df5bc34329225dd97fa8048daa0c0″,"width":605},{"src":"https://i.guim.co.uk/img/media/0e9817f4124ed67d56bc78ae32179e21d11323bf/83_141_2997_1799/master/2997.jpg?width=605&quality=45&auto=format&fit=max&dpr=2&s=3cf568dc371c902de01e8ea9f8709a03″,"width":1210},{"src":"https://i.guim.co.uk/img/media/0e9817f4124ed67d56bc78ae32179e21d11323bf/83_141_2997_1799/master/2997.jpg?width=445&quality=85&auto=format&fit=max&s=1d6e5ce13f1a7b72c8d0e449d761a597″,"width":445},{"src":"https://i.guim.co.uk/img/media/0e9817f4124ed67d56bc78ae32179e21d11323bf/83_141_2997_1799/master/2997.jpg?width=445&quality=45&auto=format&fit=max&dpr=2&s=d9d2cb68c30735a65a0cf257ac4930e7″,"width":890}]},{"weighting":"showcase","srcSet":[{"src":"https://i.guim.co.uk/img/media/0e9817f4124ed67d56bc78ae32179e21d11323bf/83_141_2997_1799/master/2997.jpg?width=860&quality=85&auto=format&fit=max&s=e4d3dd02c6ec32546e5c926cf8386eba","width":860},{"src":"https://i.guim.co.uk/img/media/0e9817f4124ed67d56bc78ae32179e21d11323bf/83_141_2997_1799/master/2997.jpg?width=860&quality=45&auto=format&fit=max&dpr=2&s=44eaf68f7f38ab6e49a51b2897271d80″,"width":1720},{"src":"https://i.guim.co.uk/img/media/0e9817f4124ed67d56bc78ae32179e21d11323bf/83_141_2997_1799/master/2997.jpg?width=780&quality=85&auto=format&fit=max&s=eed6b0cb737f2acf410bfb0f32a62a4e","width":780},{"src":"https://i.guim.co.uk/img/media/0e9817f4124ed67d56bc78ae32179e21d11323bf/83_141_2997_1799/master/2997.jpg?width=780&quality=45&auto=format&fit=max&dpr=2&s=63a8785ec726b17ae47831e4d5db2432″,"width":1560},{"src":"https://i.guim.co.uk/img/media/0e9817f4124ed67d56bc78ae32179e21d11323bf/83_141_2997_1799/master/2997.jpg?width=620&quality=85&auto=format&fit=max&s=9f679e9e7bd0845b6cd3f39c0f7bf59c","width":620},{"src":"https://i.guim.co.uk/img/media/0e9817f4124ed67d56bc78ae32179e21d11323bf/83_141_2997_1799/master/2997.jpg?width=620&quality=45&auto=format&fit=max&dpr=2&s=c23cb1735b4716ff73c91fd5e4909115″,"width":1240},{"src":"https://i.guim.co.uk/img/media/0e9817f4124ed67d56bc78ae32179e21d11323bf/83_141_2997_1799/master/2997.jpg?width=605&quality=85&auto=format&fit=max&s=9d0df5bc34329225dd97fa8048daa0c0″,"width":605},{"src":"https://i.guim.co.uk/img/media/0e9817f4124ed67d56bc78ae32179e21d11323bf/83_141_2997_1799/master/2997.jpg?width=605&quality=45&auto=format&fit=max&dpr=2&s=3cf568dc371c902de01e8ea9f8709a03″,"width":1210},{"src":"https://i.guim.co.uk/img/media/0e9817f4124ed67d56bc78ae32179e21d11323bf/83_141_2997_1799/master/2997.jpg?width=445&quality=85&auto=format&fit=max&s=1d6e5ce13f1a7b72c8d0e449d761a597″,"width":445},{"src":"https://i.guim.co.uk/img/media/0e9817f4124ed67d56bc78ae32179e21d11323bf/83_141_2997_1799/master/2997.jpg?width=445&quality=45&auto=format&fit=max&dpr=2&s=d9d2cb68c30735a65a0cf257ac4930e7″,"width":890}]},{"weighting":"halfwidth","srcSet":[{"src":"https://i.guim.co.uk/img/media/0e9817f4124ed67d56bc78ae32179e21d11323bf/83_141_2997_1799/master/2997.jpg?width=620&quality=85&auto=format&fit=max&s=9f679e9e7bd0845b6cd3f39c0f7bf59c","width":620},{"src":"https://i.guim.co.uk/img/media/0e9817f4124ed67d56bc78ae32179e21d11323bf/83_141_2997_1799/master/2997.jpg?width=620&quality=45&auto=format&fit=max&dpr=2&s=c23cb1735b4716ff73c91fd5e4909115″,"width":1240},{"src":"https://i.guim.co.uk/img/media/0e9817f4124ed67d56bc78ae32179e21d11323bf/83_141_2997_1799/master/2997.jpg?width=605&quality=85&auto=format&fit=max&s=9d0df5bc34329225dd97fa8048daa0c0″,"width":605},{"src":"https://i.guim.co.uk/img/media/0e9817f4124ed67d56bc78ae32179e21d11323bf/83_141_2997_1799/master/2997.jpg?width=605&quality=45&auto=format&fit=max&dpr=2&s=3cf568dc371c902de01e8ea9f8709a03″,"width":1210},{"src":"https://i.guim.co.uk/img/media/0e9817f4124ed67d56bc78ae32179e21d11323bf/83_141_2997_1799/master/2997.jpg?width=445&quality=85&auto=format&fit=max&s=1d6e5ce13f1a7b72c8d0e449d761a597″,"width":445},{"src":"https://i.guim.co.uk/img/media/0e9817f4124ed67d56bc78ae32179e21d11323bf/83_141_2997_1799/master/2997.jpg?width=445&quality=45&auto=format&fit=max&dpr=2&s=d9d2cb68c30735a65a0cf257ac4930e7″,"width":890}]},{"weighting":"immersive","srcSet":[{"src":"https://i.guim.co.uk/img/media/0e9817f4124ed67d56bc78ae32179e21d11323bf/83_141_2997_1799/master/2997.jpg?width=1900&quality=85&auto=format&fit=max&s=6c491db1348da7b14be32823105a19b4″,"width":1900},{"src":"https://i.guim.co.uk/img/media/0e9817f4124ed67d56bc78ae32179e21d11323bf/83_141_2997_1799/master/2997.jpg?width=1900&quality=45&auto=format&fit=max&dpr=2&s=012405e991b54f1508021ec353981e7e","width":3800},{"src":"https://i.guim.co.uk/img/media/0e9817f4124ed67d56bc78ae32179e21d11323bf/83_141_2997_1799/master/2997.jpg?width=1300&quality=85&auto=format&fit=max&s=e7eedcba72ce5d82879f024b2619e5f2″,"width":1300},{"src":"https://i.guim.co.uk/img/media/0e9817f4124ed67d56bc78ae32179e21d11323bf/83_141_2997_1799/master/2997.jpg?width=1300&quality=45&auto=format&fit=max&dpr=2&s=f54a40aeeaa44017181f522956026f65″,"width":2600},{"src":"https://i.guim.co.uk/img/media/0e9817f4124ed67d56bc78ae32179e21d11323bf/83_141_2997_1799/master/2997.jpg?width=1140&quality=85&auto=format&fit=max&s=f754f551d7c948f0d2fe8332706bea09″,"width":1140},{"src":"https://i.guim.co.uk/img/media/0e9817f4124ed67d56bc78ae32179e21d11323bf/83_141_2997_1799/master/2997.jpg?width=1140&quality=45&auto=format&fit=max&dpr=2&s=0cf48a06e33a7c51322f57509e1df708″,"width":2280},{"src":"https://i.guim.co.uk/img/media/0e9817f4124ed67d56bc78ae32179e21d11323bf/83_141_2997_1799/master/2997.jpg?width=980&quality=85&auto=format&fit=max&s=585f37c269a94f745486813231c8626e","width":980},{"src":"https://i.guim.co.uk/img/media/0e9817f4124ed67d56bc78ae32179e21d11323bf/83_141_2997_1799/master/2997.jpg?width=980&quality=45&auto=format&fit=max&dpr=2&s=960614b4371416931f9fdf14398ff8c6″,"width":1960},{"src":"https://i.guim.co.uk/img/media/0e9817f4124ed67d56bc78ae32179e21d11323bf/83_141_2997_1799/master/2997.jpg?width=740&quality=85&auto=format&fit=max&s=56c38a43baa2cf66569623e3d364ed55″,"width":740},{"src":"https://i.guim.co.uk/img/media/0e9817f4124ed67d56bc78ae32179e21d11323bf/83_141_2997_1799/master/2997.jpg?width=740&quality=45&auto=format&fit=max&dpr=2&s=7f5b48f8b694fee5f71dd805214efc83″,"width":1480},{"src":"https://i.guim.co.uk/img/media/0e9817f4124ed67d56bc78ae32179e21d11323bf/83_141_2997_1799/master/2997.jpg?width=660&quality=85&auto=format&fit=max&s=615f87f058eba5592db310c60ba1cfb4″,"width":660},{"src":"https://i.guim.co.uk/img/media/0e9817f4124ed67d56bc78ae32179e21d11323bf/83_141_2997_1799/master/2997.jpg?width=660&quality=45&auto=format&fit=max&dpr=2&s=e3a9653e7a08681a92b9fd2734a7baa8″,"width":1320},{"src":"https://i.guim.co.uk/img/media/0e9817f4124ed67d56bc78ae32179e21d11323bf/83_141_2997_1799/master/2997.jpg?width=480&quality=85&auto=format&fit=max&s=f3b16aa0109c3cc29eed1ad5536c3a23″,"width":480},{"src":"https://i.guim.co.uk/img/media/0e9817f4124ed67d56bc78ae32179e21d11323bf/83_141_2997_1799/master/2997.jpg?width=480&quality=45&auto=format&fit=max&dpr=2&s=4d7e414a38c5b48d7665937295d02907″,"width":960}]}],"elementId":"2bb9e6f5-4df9-47d5-92d4-f61b1f7017f9″},{"_type":"model.dotcomrendering.pageElements.ImageBlockElement","media":{"allImages":[{"index":0,"fields":{"height":"721″,"width":"1202″},"mediaType":"Image","mimeType":"image/jpeg","url":"https://media.guim.co.uk/b33b6f980e43bc0e0cb2f6898f7588b56d0ab286/438_76_1202_721/1202.jpg"},{"index":1,"fields":{"isMaster":"true","height":"721″,"width":"1202″},"mediaType":"Image","mimeType":"image/jpeg","url":"https://media.guim.co.uk/b33b6f980e43bc0e0cb2f6898f7588b56d0ab286/438_76_1202_721/master/1202.jpg"},{"index":2,"fields":{"height":"600″,"width":"1000″},"mediaType":"Image","mimeType":"image/jpeg","url":"https://media.guim.co.uk/b33b6f980e43bc0e0cb2f6898f7588b56d0ab286/438_76_1202_721/1000.jpg"},{"index":3,"fields":{"height":"300″,"width":"500″},"mediaType":"Image","mimeType":"image/jpeg","url":"https://media.guim.co.uk/b33b6f980e43bc0e0cb2f6898f7588b56d0ab286/438_76_1202_721/500.jpg"},{"index":4,"fields":{"height":"84″,"width":"140″},"mediaType":"Image","mimeType":"image/jpeg","url":"https://media.guim.co.uk/b33b6f980e43bc0e0cb2f6898f7588b56d0ab286/438_76_1202_721/140.jpg"}]},"data":{"alt":"Sweet as a nut: Son Heung-min of Tottenham Hotspur scores the opening goal .","caption":"And takes a picture as usual. ","credit":"Photograph: Lee Smith/Action Images/Reuters"},"displayCredit":true,"role":"inline","imageSources":[{"weighting":"inline","srcSet":[{"src":"https://i.guim.co.uk/img/media/b33b6f980e43bc0e0cb2f6898f7588b56d0ab286/438_76_1202_721/master/1202.jpg?width=620&quality=85&auto=format&fit=max&s=74eb691aa41d34141ee6e1668c6f6ae8″,"width":620},{"src":"https://i.guim.co.uk/img/media/b33b6f980e43bc0e0cb2f6898f7588b56d0ab286/438_76_1202_721/master/1202.jpg?width=620&quality=45&auto=format&fit=max&dpr=2&s=070b6ab0bcc19bd435469d795c2377ba","width":1240},{"src":"https://i.guim.co.uk/img/media/b33b6f980e43bc0e0cb2f6898f7588b56d0ab286/438_76_1202_721/master/1202.jpg?width=605&quality=85&auto=format&fit=max&s=da7b2465f27dcf60f0b7f889abbd796e","width":605},{"src":"https://i.guim.co.uk/img/media/b33b6f980e43bc0e0cb2f6898f7588b56d0ab286/438_76_1202_721/master/1202.jpg?width=605&quality=45&auto=format&fit=max&dpr=2&s=b96043a4c59560d704b7e99137cdf012″,"width":1210},{"src":"https://i.guim.co.uk/img/media/b33b6f980e43bc0e0cb2f6898f7588b56d0ab286/438_76_1202_721/master/1202.jpg?width=445&quality=85&auto=format&fit=max&s=2f102d967dcf971ec34cf0f48de7f9be","width":445},{"src":"https://i.guim.co.uk/img/media/b33b6f980e43bc0e0cb2f6898f7588b56d0ab286/438_76_1202_721/master/1202.jpg?width=445&quality=45&auto=format&fit=max&dpr=2&s=b100bde6998eeea0a8f72979d724e85f","width":890}]},{"weighting":"thumbnail","srcSet":[{"src":"https://i.guim.co.uk/img/media/b33b6f980e43bc0e0cb2f6898f7588b56d0ab286/438_76_1202_721/master/1202.jpg?width=140&quality=85&auto=format&fit=max&s=1520950fc99cabd911cd25b63482383f","width":140},{"src":"https://i.guim.co.uk/img/media/b33b6f980e43bc0e0cb2f6898f7588b56d0ab286/438_76_1202_721/master/1202.jpg?width=140&quality=45&auto=format&fit=max&dpr=2&s=0809bafa9e07226144d89ea2626e3403″,"width":280},{"src":"https://i.guim.co.uk/img/media/b33b6f980e43bc0e0cb2f6898f7588b56d0ab286/438_76_1202_721/master/1202.jpg?width=120&quality=85&auto=format&fit=max&s=21a0c51a1fcf6ff87774ea2696444114″,"width":120},{"src":"https://i.guim.co.uk/img/media/b33b6f980e43bc0e0cb2f6898f7588b56d0ab286/438_76_1202_721/master/1202.jpg?width=120&quality=45&auto=format&fit=max&dpr=2&s=7fd0c75321be4a5cb2552116cb66aa11″,"width":240}]},{"weighting":"supporting","srcSet":[{"src":"https://i.guim.co.uk/img/media/b33b6f980e43bc0e0cb2f6898f7588b56d0ab286/438_76_1202_721/master/1202.jpg?width=380&quality=85&auto=format&fit=max&s=775111fc0b83872d3ec990858391fe3d","width":380},{"src":"https://i.guim.co.uk/img/media/b33b6f980e43bc0e0cb2f6898f7588b56d0ab286/438_76_1202_721/master/1202.jpg?width=380&quality=45&auto=format&fit=max&dpr=2&s=6571460d4bf568dfe99ab2ba297288ea","width":760},{"src":"https://i.guim.co.uk/img/media/b33b6f980e43bc0e0cb2f6898f7588b56d0ab286/438_76_1202_721/master/1202.jpg?width=300&quality=85&auto=format&fit=max&s=8c4c980a5015b989e0f2b77fc47cae90″,"width":300},{"src":"https://i.guim.co.uk/img/media/b33b6f980e43bc0e0cb2f6898f7588b56d0ab286/438_76_1202_721/master/1202.jpg?width=300&quality=45&auto=format&fit=max&dpr=2&s=57640985fc831a34aef2411cae77e0d4″,"width":600},{"src":"https://i.guim.co.uk/img/media/b33b6f980e43bc0e0cb2f6898f7588b56d0ab286/438_76_1202_721/master/1202.jpg?width=620&quality=85&auto=format&fit=max&s=74eb691aa41d34141ee6e1668c6f6ae8″,"width":620},{"src":"https://i.guim.co.uk/img/media/b33b6f980e43bc0e0cb2f6898f7588b56d0ab286/438_76_1202_721/master/1202.jpg?width=620&quality=45&auto=format&fit=max&dpr=2&s=070b6ab0bcc19bd435469d795c2377ba","width":1240},{"src":"https://i.guim.co.uk/img/media/b33b6f980e43bc0e0cb2f6898f7588b56d0ab286/438_76_1202_721/master/1202.jpg?width=605&quality=85&auto=format&fit=max&s=da7b2465f27dcf60f0b7f889abbd796e","width":605},{"src":"https://i.guim.co.uk/img/media/b33b6f980e43bc0e0cb2f6898f7588b56d0ab286/438_76_1202_721/master/1202.jpg?width=605&quality=45&auto=format&fit=max&dpr=2&s=b96043a4c59560d704b7e99137cdf012″,"width":1210},{"src":"https://i.guim.co.uk/img/media/b33b6f980e43bc0e0cb2f6898f7588b56d0ab286/438_76_1202_721/master/1202.jpg?width=445&quality=85&auto=format&fit=max&s=2f102d967dcf971ec34cf0f48de7f9be","width":445},{"src":"https://i.guim.co.uk/img/media/b33b6f980e43bc0e0cb2f6898f7588b56d0ab286/438_76_1202_721/master/1202.jpg?width=445&quality=45&auto=format&fit=max&dpr=2&s=b100bde6998eeea0a8f72979d724e85f","width":890}]},{"weighting":"showcase","srcSet":[{"src":"https://i.guim.co.uk/img/media/b33b6f980e43bc0e0cb2f6898f7588b56d0ab286/438_76_1202_721/master/1202.jpg?width=860&quality=85&auto=format&fit=max&s=397ac64234f1330057dad0eb7225bc30″,"width":860},{"src":"https://i.guim.co.uk/img/media/b33b6f980e43bc0e0cb2f6898f7588b56d0ab286/438_76_1202_721/master/1202.jpg?width=860&quality=45&auto=format&fit=max&dpr=2&s=728e31bb44587679187954a53e8ba8a9″,"width":1720},{"src":"https://i.guim.co.uk/img/media/b33b6f980e43bc0e0cb2f6898f7588b56d0ab286/438_76_1202_721/master/1202.jpg?width=780&quality=85&auto=format&fit=max&s=5ebde0490f12e7a230119778cdfc6920″,"width":780},{"src":"https://i.guim.co.uk/img/media/b33b6f980e43bc0e0cb2f6898f7588b56d0ab286/438_76_1202_721/master/1202.jpg?width=780&quality=45&auto=format&fit=max&dpr=2&s=4fe17bee4390f804f883a9eea0ecb262″,"width":1560},{"src":"https://i.guim.co.uk/img/media/b33b6f980e43bc0e0cb2f6898f7588b56d0ab286/438_76_1202_721/master/1202.jpg?width=620&quality=85&auto=format&fit=max&s=74eb691aa41d34141ee6e1668c6f6ae8″,"width":620},{"src":"https://i.guim.co.uk/img/media/b33b6f980e43bc0e0cb2f6898f7588b56d0ab286/438_76_1202_721/master/1202.jpg?width=620&quality=45&auto=format&fit=max&dpr=2&s=070b6ab0bcc19bd435469d795c2377ba","width":1240},{"src":"https://i.guim.co.uk/img/media/b33b6f980e43bc0e0cb2f6898f7588b56d0ab286/438_76_1202_721/master/1202.jpg?width=605&quality=85&auto=format&fit=max&s=da7b2465f27dcf60f0b7f889abbd796e","width":605},{"src":"https://i.guim.co.uk/img/media/b33b6f980e43bc0e0cb2f6898f7588b56d0ab286/438_76_1202_721/master/1202.jpg?width=605&quality=45&auto=format&fit=max&dpr=2&s=b96043a4c59560d704b7e99137cdf012″,"width":1210},{"src":"https://i.guim.co.uk/img/media/b33b6f980e43bc0e0cb2f6898f7588b56d0ab286/438_76_1202_721/master/1202.jpg?width=445&quality=85&auto=format&fit=max&s=2f102d967dcf971ec34cf0f48de7f9be","width":445},{"src":"https://i.guim.co.uk/img/media/b33b6f980e43bc0e0cb2f6898f7588b56d0ab286/438_76_1202_721/master/1202.jpg?width=445&quality=45&auto=format&fit=max&dpr=2&s=b100bde6998eeea0a8f72979d724e85f","width":890}]},{"weighting":"halfwidth","srcSet":[{"src":"https://i.guim.co.uk/img/media/b33b6f980e43bc0e0cb2f6898f7588b56d0ab286/438_76_1202_721/master/1202.jpg?width=620&quality=85&auto=format&fit=max&s=74eb691aa41d34141ee6e1668c6f6ae8″,"width":620},{"src":"https://i.guim.co.uk/img/media/b33b6f980e43bc0e0cb2f6898f7588b56d0ab286/438_76_1202_721/master/1202.jpg?width=620&quality=45&auto=format&fit=max&dpr=2&s=070b6ab0bcc19bd435469d795c2377ba","width":1240},{"src":"https://i.guim.co.uk/img/media/b33b6f980e43bc0e0cb2f6898f7588b56d0ab286/438_76_1202_721/master/1202.jpg?width=605&quality=85&auto=format&fit=max&s=da7b2465f27dcf60f0b7f889abbd796e","width":605},{"src":"https://i.guim.co.uk/img/media/b33b6f980e43bc0e0cb2f6898f7588b56d0ab286/438_76_1202_721/master/1202.jpg?width=605&quality=45&auto=format&fit=max&dpr=2&s=b96043a4c59560d704b7e99137cdf012″,"width":1210},{"src":"https://i.guim.co.uk/img/media/b33b6f980e43bc0e0cb2f6898f7588b56d0ab286/438_76_1202_721/master/1202.jpg?width=445&quality=85&auto=format&fit=max&s=2f102d967dcf971ec34cf0f48de7f9be","width":445},{"src":"https://i.guim.co.uk/img/media/b33b6f980e43bc0e0cb2f6898f7588b56d0ab286/438_76_1202_721/master/1202.jpg?width=445&quality=45&auto=format&fit=max&dpr=2&s=b100bde6998eeea0a8f72979d724e85f","width":890}]},{"weighting":"immersive","srcSet":[{"src":"https://i.guim.co.uk/img/media/b33b6f980e43bc0e0cb2f6898f7588b56d0ab286/438_76_1202_721/master/1202.jpg?width=1900&quality=85&auto=format&fit=max&s=5bed843d6024792d7aaaa2d5b590e2f6″,"width":1900},{"src":"https://i.guim.co.uk/img/media/b33b6f980e43bc0e0cb2f6898f7588b56d0ab286/438_76_1202_721/master/1202.jpg?width=1900&quality=45&auto=format&fit=max&dpr=2&s=a9f6dabf15c41c6045fc696896b95ef9″,"width":3800},{"src":"https://i.guim.co.uk/img/media/b33b6f980e43bc0e0cb2f6898f7588b56d0ab286/438_76_1202_721/master/1202.jpg?width=1300&quality=85&auto=format&fit=max&s=1f0003fed9b31456ca7b0ad168c6e261″,"width":1300},{"src":"https://i.guim.co.uk/img/media/b33b6f980e43bc0e0cb2f6898f7588b56d0ab286/438_76_1202_721/master/1202.jpg?width=1300&quality=45&auto=format&fit=max&dpr=2&s=3e095d6a2685dd796d937ed7cb0a410e","width":2600},{"src":"https://i.guim.co.uk/img/media/b33b6f980e43bc0e0cb2f6898f7588b56d0ab286/438_76_1202_721/master/1202.jpg?width=1140&quality=85&auto=format&fit=max&s=fe2288c8ef7503929729318decf286b8″,"width":1140},{"src":"https://i.guim.co.uk/img/media/b33b6f980e43bc0e0cb2f6898f7588b56d0ab286/438_76_1202_721/master/1202.jpg?width=1140&quality=45&auto=format&fit=max&dpr=2&s=e8acee4503eff29904ebec60507ce2f9″,"width":2280},{"src":"https://i.guim.co.uk/img/media/b33b6f980e43bc0e0cb2f6898f7588b56d0ab286/438_76_1202_721/master/1202.jpg?width=980&quality=85&auto=format&fit=max&s=e86f34f7956652dd5eee1401751d9568″,"width":980},{"src":"https://i.guim.co.uk/img/media/b33b6f980e43bc0e0cb2f6898f7588b56d0ab286/438_76_1202_721/master/1202.jpg?width=980&quality=45&auto=format&fit=max&dpr=2&s=3a2dc883fce4bafc73b67d5a0c4083b5″,"width":1960},{"src":"https://i.guim.co.uk/img/media/b33b6f980e43bc0e0cb2f6898f7588b56d0ab286/438_76_1202_721/master/1202.jpg?width=740&quality=85&auto=format&fit=max&s=01d716b9c57593c5c2daa1effa88cffb","width":740},{"src":"https://i.guim.co.uk/img/media/b33b6f980e43bc0e0cb2f6898f7588b56d0ab286/438_76_1202_721/master/1202.jpg?width=740&quality=45&auto=format&fit=max&dpr=2&s=8161ce1f274a75e18f9b52fd9f41093c","width":1480},{"src":"https://i.guim.co.uk/img/media/b33b6f980e43bc0e0cb2f6898f7588b56d0ab286/438_76_1202_721/master/1202.jpg?width=660&quality=85&auto=format&fit=max&s=54114a7bca21cbd9cb87352b633a72ab","width":660},{"src":"https://i.guim.co.uk/img/media/b33b6f980e43bc0e0cb2f6898f7588b56d0ab286/438_76_1202_721/master/1202.jpg?width=660&quality=45&auto=format&fit=max&dpr=2&s=c0ea874548fd1cc4bfe0a559b57d2859″,"width":1320},{"src":"https://i.guim.co.uk/img/media/b33b6f980e43bc0e0cb2f6898f7588b56d0ab286/438_76_1202_721/master/1202.jpg?width=480&quality=85&auto=format&fit=max&s=948862c5fc4b81431fe2d55ca22e260f","width":480},{"src":"https://i.guim.co.uk/img/media/b33b6f980e43bc0e0cb2f6898f7588b56d0ab286/438_76_1202_721/master/1202.jpg?width=480&quality=45&auto=format&fit=max&dpr=2&s=5160795fe6f220e149b29057b21f76c8″,"width":960}]}],"elementId":"228fdc6f-e8bf-4f75-90a2-03c465bafc14″}],"attributes":{"pinned":false,"keyEvent":true,"summary":false},"blockCreatedOn":1674932828000,"blockCreatedOnDisplay":"14.07 EST","blockLastUpdated":1674933341000,"blockLastUpdatedDisplay":"14.15 EST","blockFirstPublished":1674932939000,"blockFirstPublishedDisplay":"14.08 EST","blockFirstPublishedDisplayNoTimezone":"14.08″,"title":"GOAL! Preston 0-1 Tottenham Hotspur (Son 50)","contributors":[],"primaryDateLine":"Sat 28 Jan 2023 15.20 EST","secondaryDateLine":"First published on Sat 28 Jan 2023 11.57 EST"},{"id":"63d571238f0834851fb03169″,"elements":[{"_type":"model.dotcomrendering.pageElements.TextBlockElement","html":"

46 min: Play resumes with Spurs kicking off and there are no changes in personnel on either side.

","elementId":"12824b51-df90-46ed-bbc7-4a6c3fb8829d"},{"_type":"model.dotcomrendering.pageElements.ImageBlockElement","media":{"allImages":[{"index":0,"fields":{"height":"3131″,"width":"2505″},"mediaType":"Image","mimeType":"image/jpeg","url":"https://media.guim.co.uk/3c2c637e84a7e4df3404c235154f158af5a09e2e/782_0_2505_3131/2505.jpg"},{"index":1,"fields":{"isMaster":"true","height":"3131″,"width":"2505″},"mediaType":"Image","mimeType":"image/jpeg","url":"https://media.guim.co.uk/3c2c637e84a7e4df3404c235154f158af5a09e2e/782_0_2505_3131/master/2505.jpg"},{"index":2,"fields":{"height":"2000″,"width":"1600″},"mediaType":"Image","mimeType":"image/jpeg","url":"https://media.guim.co.uk/3c2c637e84a7e4df3404c235154f158af5a09e2e/782_0_2505_3131/1600.jpg"},{"index":3,"fields":{"height":"1000″,"width":"800″},"mediaType":"Image","mimeType":"image/jpeg","url":"https://media.guim.co.uk/3c2c637e84a7e4df3404c235154f158af5a09e2e/782_0_2505_3131/800.jpg"},{"index":4,"fields":{"height":"500″,"width":"400″},"mediaType":"Image","mimeType":"image/jpeg","url":"https://media.guim.co.uk/3c2c637e84a7e4df3404c235154f158af5a09e2e/782_0_2505_3131/400.jpg"}]},"data":{"alt":"A steward bursts balloons with his boots Preston North End v Tottenham Hotspur,","caption":"Still popping balloons. ","credit":"Photograph: REX/Shutterstock"},"displayCredit":true,"role":"inline","imageSources":[{"weighting":"inline","srcSet":[{"src":"https://i.guim.co.uk/img/media/3c2c637e84a7e4df3404c235154f158af5a09e2e/782_0_2505_3131/master/2505.jpg?width=620&quality=85&auto=format&fit=max&s=0a90078924b0cf56df8c20477da29ce2″,"width":620},{"src":"https://i.guim.co.uk/img/media/3c2c637e84a7e4df3404c235154f158af5a09e2e/782_0_2505_3131/master/2505.jpg?width=620&quality=45&auto=format&fit=max&dpr=2&s=df20ff6a57b4092c7c116d738309c92d","width":1240},{"src":"https://i.guim.co.uk/img/media/3c2c637e84a7e4df3404c235154f158af5a09e2e/782_0_2505_3131/master/2505.jpg?width=605&quality=85&auto=format&fit=max&s=09017be15eefca8a1d9ff3de98f81a3f","width":605},{"src":"https://i.guim.co.uk/img/media/3c2c637e84a7e4df3404c235154f158af5a09e2e/782_0_2505_3131/master/2505.jpg?width=605&quality=45&auto=format&fit=max&dpr=2&s=367607ccdc062e43b5872926af182f44″,"width":1210},{"src":"https://i.guim.co.uk/img/media/3c2c637e84a7e4df3404c235154f158af5a09e2e/782_0_2505_3131/master/2505.jpg?width=445&quality=85&auto=format&fit=max&s=7f1a5e3dcc88dc0814f695b834f1f58a","width":445},{"src":"https://i.guim.co.uk/img/media/3c2c637e84a7e4df3404c235154f158af5a09e2e/782_0_2505_3131/master/2505.jpg?width=445&quality=45&auto=format&fit=max&dpr=2&s=e8f12b063a53fd28b90f844537bd5d9a","width":890}]},{"weighting":"thumbnail","srcSet":[{"src":"https://i.guim.co.uk/img/media/3c2c637e84a7e4df3404c235154f158af5a09e2e/782_0_2505_3131/master/2505.jpg?width=140&quality=85&auto=format&fit=max&s=11bfca6cda77641a87ad13c66fe5ebbb","width":140},{"src":"https://i.guim.co.uk/img/media/3c2c637e84a7e4df3404c235154f158af5a09e2e/782_0_2505_3131/master/2505.jpg?width=140&quality=45&auto=format&fit=max&dpr=2&s=9fa051f9e27412290a3512c4c0ff0464″,"width":280},{"src":"https://i.guim.co.uk/img/media/3c2c637e84a7e4df3404c235154f158af5a09e2e/782_0_2505_3131/master/2505.jpg?width=120&quality=85&auto=format&fit=max&s=a0efc3620c899cdba89c14653ce74455″,"width":120},{"src":"https://i.guim.co.uk/img/media/3c2c637e84a7e4df3404c235154f158af5a09e2e/782_0_2505_3131/master/2505.jpg?width=120&quality=45&auto=format&fit=max&dpr=2&s=62a65f4ded29725d01ad2fad9634cb59″,"width":240}]},{"weighting":"supporting","srcSet":[{"src":"https://i.guim.co.uk/img/media/3c2c637e84a7e4df3404c235154f158af5a09e2e/782_0_2505_3131/master/2505.jpg?width=380&quality=85&auto=format&fit=max&s=141b42bc8edd07f0a3d35e2a17cb41c6″,"width":380},{"src":"https://i.guim.co.uk/img/media/3c2c637e84a7e4df3404c235154f158af5a09e2e/782_0_2505_3131/master/2505.jpg?width=380&quality=45&auto=format&fit=max&dpr=2&s=8910ee5bb63644852a6a0af4162b61d1″,"width":760},{"src":"https://i.guim.co.uk/img/media/3c2c637e84a7e4df3404c235154f158af5a09e2e/782_0_2505_3131/master/2505.jpg?width=300&quality=85&auto=format&fit=max&s=ffc066d475a4587fe0bf5b45a5ba142d","width":300},{"src":"https://i.guim.co.uk/img/media/3c2c637e84a7e4df3404c235154f158af5a09e2e/782_0_2505_3131/master/2505.jpg?width=300&quality=45&auto=format&fit=max&dpr=2&s=acf0f851c6019ae667a56093e70d042f","width":600},{"src":"https://i.guim.co.uk/img/media/3c2c637e84a7e4df3404c235154f158af5a09e2e/782_0_2505_3131/master/2505.jpg?width=620&quality=85&auto=format&fit=max&s=0a90078924b0cf56df8c20477da29ce2″,"width":620},{"src":"https://i.guim.co.uk/img/media/3c2c637e84a7e4df3404c235154f158af5a09e2e/782_0_2505_3131/master/2505.jpg?width=620&quality=45&auto=format&fit=max&dpr=2&s=df20ff6a57b4092c7c116d738309c92d","width":1240},{"src":"https://i.guim.co.uk/img/media/3c2c637e84a7e4df3404c235154f158af5a09e2e/782_0_2505_3131/master/2505.jpg?width=605&quality=85&auto=format&fit=max&s=09017be15eefca8a1d9ff3de98f81a3f","width":605},{"src":"https://i.guim.co.uk/img/media/3c2c637e84a7e4df3404c235154f158af5a09e2e/782_0_2505_3131/master/2505.jpg?width=605&quality=45&auto=format&fit=max&dpr=2&s=367607ccdc062e43b5872926af182f44″,"width":1210},{"src":"https://i.guim.co.uk/img/media/3c2c637e84a7e4df3404c235154f158af5a09e2e/782_0_2505_3131/master/2505.jpg?width=445&quality=85&auto=format&fit=max&s=7f1a5e3dcc88dc0814f695b834f1f58a","width":445},{"src":"https://i.guim.co.uk/img/media/3c2c637e84a7e4df3404c235154f158af5a09e2e/782_0_2505_3131/master/2505.jpg?width=445&quality=45&auto=format&fit=max&dpr=2&s=e8f12b063a53fd28b90f844537bd5d9a","width":890}]},{"weighting":"showcase","srcSet":[{"src":"https://i.guim.co.uk/img/media/3c2c637e84a7e4df3404c235154f158af5a09e2e/782_0_2505_3131/master/2505.jpg?width=860&quality=85&auto=format&fit=max&s=22cae19d7d3132cb5e8a01db9296b8f1″,"width":860},{"src":"https://i.guim.co.uk/img/media/3c2c637e84a7e4df3404c235154f158af5a09e2e/782_0_2505_3131/master/2505.jpg?width=860&quality=45&auto=format&fit=max&dpr=2&s=7d29b52abf171ed3714a42b8ca309f09″,"width":1720},{"src":"https://i.guim.co.uk/img/media/3c2c637e84a7e4df3404c235154f158af5a09e2e/782_0_2505_3131/master/2505.jpg?width=780&quality=85&auto=format&fit=max&s=862ae02310a252fb1db08a21ee538259″,"width":780},{"src":"https://i.guim.co.uk/img/media/3c2c637e84a7e4df3404c235154f158af5a09e2e/782_0_2505_3131/master/2505.jpg?width=780&quality=45&auto=format&fit=max&dpr=2&s=011ae08c977f782e28be2981b6e4933f","width":1560},{"src":"https://i.guim.co.uk/img/media/3c2c637e84a7e4df3404c235154f158af5a09e2e/782_0_2505_3131/master/2505.jpg?width=620&quality=85&auto=format&fit=max&s=0a90078924b0cf56df8c20477da29ce2″,"width":620},{"src":"https://i.guim.co.uk/img/media/3c2c637e84a7e4df3404c235154f158af5a09e2e/782_0_2505_3131/master/2505.jpg?width=620&quality=45&auto=format&fit=max&dpr=2&s=df20ff6a57b4092c7c116d738309c92d","width":1240},{"src":"https://i.guim.co.uk/img/media/3c2c637e84a7e4df3404c235154f158af5a09e2e/782_0_2505_3131/master/2505.jpg?width=605&quality=85&auto=format&fit=max&s=09017be15eefca8a1d9ff3de98f81a3f","width":605},{"src":"https://i.guim.co.uk/img/media/3c2c637e84a7e4df3404c235154f158af5a09e2e/782_0_2505_3131/master/2505.jpg?width=605&quality=45&auto=format&fit=max&dpr=2&s=367607ccdc062e43b5872926af182f44″,"width":1210},{"src":"https://i.guim.co.uk/img/media/3c2c637e84a7e4df3404c235154f158af5a09e2e/782_0_2505_3131/master/2505.jpg?width=445&quality=85&auto=format&fit=max&s=7f1a5e3dcc88dc0814f695b834f1f58a","width":445},{"src":"https://i.guim.co.uk/img/media/3c2c637e84a7e4df3404c235154f158af5a09e2e/782_0_2505_3131/master/2505.jpg?width=445&quality=45&auto=format&fit=max&dpr=2&s=e8f12b063a53fd28b90f844537bd5d9a","width":890}]},{"weighting":"halfwidth","srcSet":[{"src":"https://i.guim.co.uk/img/media/3c2c637e84a7e4df3404c235154f158af5a09e2e/782_0_2505_3131/master/2505.jpg?width=620&quality=85&auto=format&fit=max&s=0a90078924b0cf56df8c20477da29ce2″,"width":620},{"src":"https://i.guim.co.uk/img/media/3c2c637e84a7e4df3404c235154f158af5a09e2e/782_0_2505_3131/master/2505.jpg?width=620&quality=45&auto=format&fit=max&dpr=2&s=df20ff6a57b4092c7c116d738309c92d","width":1240},{"src":"https://i.guim.co.uk/img/media/3c2c637e84a7e4df3404c235154f158af5a09e2e/782_0_2505_3131/master/2505.jpg?width=605&quality=85&auto=format&fit=max&s=09017be15eefca8a1d9ff3de98f81a3f","width":605},{"src":"https://i.guim.co.uk/img/media/3c2c637e84a7e4df3404c235154f158af5a09e2e/782_0_2505_3131/master/2505.jpg?width=605&quality=45&auto=format&fit=max&dpr=2&s=367607ccdc062e43b5872926af182f44″,"width":1210},{"src":"https://i.guim.co.uk/img/media/3c2c637e84a7e4df3404c235154f158af5a09e2e/782_0_2505_3131/master/2505.jpg?width=445&quality=85&auto=format&fit=max&s=7f1a5e3dcc88dc0814f695b834f1f58a","width":445},{"src":"https://i.guim.co.uk/img/media/3c2c637e84a7e4df3404c235154f158af5a09e2e/782_0_2505_3131/master/2505.jpg?width=445&quality=45&auto=format&fit=max&dpr=2&s=e8f12b063a53fd28b90f844537bd5d9a","width":890}]},{"weighting":"immersive","srcSet":[{"src":"https://i.guim.co.uk/img/media/3c2c637e84a7e4df3404c235154f158af5a09e2e/782_0_2505_3131/master/2505.jpg?width=1900&quality=85&auto=format&fit=max&s=51260fdd3318bd7d1cd7fef489b8370c","width":1900},{"src":"https://i.guim.co.uk/img/media/3c2c637e84a7e4df3404c235154f158af5a09e2e/782_0_2505_3131/master/2505.jpg?width=1900&quality=45&auto=format&fit=max&dpr=2&s=988cdfa0be8bb603567ddad2b4ada355″,"width":3800},{"src":"https://i.guim.co.uk/img/media/3c2c637e84a7e4df3404c235154f158af5a09e2e/782_0_2505_3131/master/2505.jpg?width=1300&quality=85&auto=format&fit=max&s=9f4baf2b3108c0578e682ec030fe876c","width":1300},{"src":"https://i.guim.co.uk/img/media/3c2c637e84a7e4df3404c235154f158af5a09e2e/782_0_2505_3131/master/2505.jpg?width=1300&quality=45&auto=format&fit=max&dpr=2&s=b428b89d6bb786a17019278b55e69101″,"width":2600},{"src":"https://i.guim.co.uk/img/media/3c2c637e84a7e4df3404c235154f158af5a09e2e/782_0_2505_3131/master/2505.jpg?width=1140&quality=85&auto=format&fit=max&s=9c42b2539ff25a5c255352f634f042c7″,"width":1140},{"src":"https://i.guim.co.uk/img/media/3c2c637e84a7e4df3404c235154f158af5a09e2e/782_0_2505_3131/master/2505.jpg?width=1140&quality=45&auto=format&fit=max&dpr=2&s=d69ac01174c642883ad28c4e002f3a4f","width":2280},{"src":"https://i.guim.co.uk/img/media/3c2c637e84a7e4df3404c235154f158af5a09e2e/782_0_2505_3131/master/2505.jpg?width=980&quality=85&auto=format&fit=max&s=efd60076edeee8c5fe6e8b79f6f1ee48″,"width":980},{"src":"https://i.guim.co.uk/img/media/3c2c637e84a7e4df3404c235154f158af5a09e2e/782_0_2505_3131/master/2505.jpg?width=980&quality=45&auto=format&fit=max&dpr=2&s=3d7a04ed50e08cd038089ca861b8dc42″,"width":1960},{"src":"https://i.guim.co.uk/img/media/3c2c637e84a7e4df3404c235154f158af5a09e2e/782_0_2505_3131/master/2505.jpg?width=740&quality=85&auto=format&fit=max&s=f4d25e4f1d3af89465c0b90d9820e090″,"width":740},{"src":"https://i.guim.co.uk/img/media/3c2c637e84a7e4df3404c235154f158af5a09e2e/782_0_2505_3131/master/2505.jpg?width=740&quality=45&auto=format&fit=max&dpr=2&s=fecd8cd1c41bcb3d779d48ee9a4c27ff","width":1480},{"src":"https://i.guim.co.uk/img/media/3c2c637e84a7e4df3404c235154f158af5a09e2e/782_0_2505_3131/master/2505.jpg?width=660&quality=85&auto=format&fit=max&s=c1dff28322f8cf618d7f61d61adb4494″,"width":660},{"src":"https://i.guim.co.uk/img/media/3c2c637e84a7e4df3404c235154f158af5a09e2e/782_0_2505_3131/master/2505.jpg?width=660&quality=45&auto=format&fit=max&dpr=2&s=aac84de7ad20c8bb29235341b6e540ae","width":1320},{"src":"https://i.guim.co.uk/img/media/3c2c637e84a7e4df3404c235154f158af5a09e2e/782_0_2505_3131/master/2505.jpg?width=480&quality=85&auto=format&fit=max&s=957ceb98b3a56f90b5ae61ebb48addf5″,"width":480},{"src":"https://i.guim.co.uk/img/media/3c2c637e84a7e4df3404c235154f158af5a09e2e/782_0_2505_3131/master/2505.jpg?width=480&quality=45&auto=format&fit=max&dpr=2&s=3b96a9417143715976764384f68d4c49″,"width":960}]}],"elementId":"03ccab0a-509a-43a3-9b1c-b77e52361ea6″}],"attributes":{"pinned":false,"keyEvent":true,"summary":false},"blockCreatedOn":1674932515000,"blockCreatedOnDisplay":"14.01 EST","blockLastUpdated":1674932816000,"blockLastUpdatedDisplay":"14.06 EST","blockFirstPublished":1674932572000,"blockFirstPublishedDisplay":"14.02 EST","blockFirstPublishedDisplayNoTimezone":"14.02″,"title":"Second half: Preston 0-0 Tottenham Hotspur","contributors":[],"primaryDateLine":"Sat 28 Jan 2023 15.20 EST","secondaryDateLine":"First published on Sat 28 Jan 2023 11.57 EST"},{"id":"63d56d5e8f0828070504e5f7″,"elements":[{"_type":"model.dotcomrendering.pageElements.TextBlockElement","html":"

Peep! A seriously underwhelming first half is put out of its misery by referee Peter Bankes but Preston manager Ryan Lowe won't care about the paucity of entertainment. His side has defended well and restricted Tottenham to three shots from distance but haven't offered much going forward. Spurs have looked bereft of ideas in the face of a stout wall of white resistance.

","elementId":"ecb8f4cc-ecce-4d04-ae12-019b58895f7b"},{"_type":"model.dotcomrendering.pageElements.ImageBlockElement","media":{"allImages":[{"index":0,"fields":{"height":"1895″,"width":"3159″},"mediaType":"Image","mimeType":"image/jpeg","url":"https://media.guim.co.uk/cc0e98cbde817b4e0012a0fd3b5936622efb5a7f/236_425_3159_1895/3159.jpg"},{"index":1,"fields":{"isMaster":"true","height":"1895″,"width":"3159″},"mediaType":"Image","mimeType":"image/jpeg","url":"https://media.guim.co.uk/cc0e98cbde817b4e0012a0fd3b5936622efb5a7f/236_425_3159_1895/master/3159.jpg"},{"index":2,"fields":{"height":"1200″,"width":"2000″},"mediaType":"Image","mimeType":"image/jpeg","url":"https://media.guim.co.uk/cc0e98cbde817b4e0012a0fd3b5936622efb5a7f/236_425_3159_1895/2000.jpg"},{"index":3,"fields":{"height":"600″,"width":"1000″},"mediaType":"Image","mimeType":"image/jpeg","url":"https://media.guim.co.uk/cc0e98cbde817b4e0012a0fd3b5936622efb5a7f/236_425_3159_1895/1000.jpg"},{"index":4,"fields":{"height":"300″,"width":"500″},"mediaType":"Image","mimeType":"image/jpeg","url":"https://media.guim.co.uk/cc0e98cbde817b4e0012a0fd3b5936622efb5a7f/236_425_3159_1895/500.jpg"},{"index":5,"fields":{"height":"84″,"width":"140″},"mediaType":"Image","mimeType":"image/jpeg","url":"https://media.guim.co.uk/cc0e98cbde817b4e0012a0fd3b5936622efb5a7f/236_425_3159_1895/140.jpg"}]},"data":{"alt":"Tottenham Hotspur's English midfielder Ryan Sessegnon (R) crosses the ball as Preston's Irish midfielder Alan Browne (C) tries to block during the English FA Cup fourth round football match between Preston North End and Tottenham Hotspur at Deepdale","caption":"Preston North End defending as a team and frustrating Spurs. ","credit":"Photograph: Lindsey Parnaby/AFP/Getty Images"},"displayCredit":true,"role":"inline","imageSources":[{"weighting":"inline","srcSet":[{"src":"https://i.guim.co.uk/img/media/cc0e98cbde817b4e0012a0fd3b5936622efb5a7f/236_425_3159_1895/master/3159.jpg?width=620&quality=85&auto=format&fit=max&s=27fe7f65eeb59f3658cfe3ac42c85e12″,"width":620},{"src":"https://i.guim.co.uk/img/media/cc0e98cbde817b4e0012a0fd3b5936622efb5a7f/236_425_3159_1895/master/3159.jpg?width=620&quality=45&auto=format&fit=max&dpr=2&s=73605dcd2d992bdc0cf5139dd165c4a0″,"width":1240},{"src":"https://i.guim.co.uk/img/media/cc0e98cbde817b4e0012a0fd3b5936622efb5a7f/236_425_3159_1895/master/3159.jpg?width=605&quality=85&auto=format&fit=max&s=1b1b148c7524d9d8314c608a32e75c33″,"width":605},{"src":"https://i.guim.co.uk/img/media/cc0e98cbde817b4e0012a0fd3b5936622efb5a7f/236_425_3159_1895/master/3159.jpg?width=605&quality=45&auto=format&fit=max&dpr=2&s=28c253768f740ef77cc941ce8e5e83ac","width":1210},{"src":"https://i.guim.co.uk/img/media/cc0e98cbde817b4e0012a0fd3b5936622efb5a7f/236_425_3159_1895/master/3159.jpg?width=445&quality=85&auto=format&fit=max&s=edee20a7463f6d2f0b81a0fc54ab8a85″,"width":445},{"src":"https://i.guim.co.uk/img/media/cc0e98cbde817b4e0012a0fd3b5936622efb5a7f/236_425_3159_1895/master/3159.jpg?width=445&quality=45&auto=format&fit=max&dpr=2&s=776876137cf4a5b98ca4a17d443acdb7″,"width":890}]},{"weighting":"thumbnail","srcSet":[{"src":"https://i.guim.co.uk/img/media/cc0e98cbde817b4e0012a0fd3b5936622efb5a7f/236_425_3159_1895/master/3159.jpg?width=140&quality=85&auto=format&fit=max&s=78110bc37903e87c8a00855d9e8c49ad","width":140},{"src":"https://i.guim.co.uk/img/media/cc0e98cbde817b4e0012a0fd3b5936622efb5a7f/236_425_3159_1895/master/3159.jpg?width=140&quality=45&auto=format&fit=max&dpr=2&s=1e275145e0e7fdc2eba51c641c9b29f9″,"width":280},{"src":"https://i.guim.co.uk/img/media/cc0e98cbde817b4e0012a0fd3b5936622efb5a7f/236_425_3159_1895/master/3159.jpg?width=120&quality=85&auto=format&fit=max&s=212ccfd37a681f47b9b6707b1453e7a5″,"width":120},{"src":"https://i.guim.co.uk/img/media/cc0e98cbde817b4e0012a0fd3b5936622efb5a7f/236_425_3159_1895/master/3159.jpg?width=120&quality=45&auto=format&fit=max&dpr=2&s=3953e626d83a942a709275491caff18c","width":240}]},{"weighting":"supporting","srcSet":[{"src":"https://i.guim.co.uk/img/media/cc0e98cbde817b4e0012a0fd3b5936622efb5a7f/236_425_3159_1895/master/3159.jpg?width=380&quality=85&auto=format&fit=max&s=e10905f310480d6c0ebf1dd617270131″,"width":380},{"src":"https://i.guim.co.uk/img/media/cc0e98cbde817b4e0012a0fd3b5936622efb5a7f/236_425_3159_1895/master/3159.jpg?width=380&quality=45&auto=format&fit=max&dpr=2&s=2472ec3d21a569177a93de65631d896b","width":760},{"src":"https://i.guim.co.uk/img/media/cc0e98cbde817b4e0012a0fd3b5936622efb5a7f/236_425_3159_1895/master/3159.jpg?width=300&quality=85&auto=format&fit=max&s=7203f98029e4c83f7f23a72a669b9f77″,"width":300},{"src":"https://i.guim.co.uk/img/media/cc0e98cbde817b4e0012a0fd3b5936622efb5a7f/236_425_3159_1895/master/3159.jpg?width=300&quality=45&auto=format&fit=max&dpr=2&s=99ccb9cc10fd1317e1a61ad879b11090″,"width":600},{"src":"https://i.guim.co.uk/img/media/cc0e98cbde817b4e0012a0fd3b5936622efb5a7f/236_425_3159_1895/master/3159.jpg?width=620&quality=85&auto=format&fit=max&s=27fe7f65eeb59f3658cfe3ac42c85e12″,"width":620},{"src":"https://i.guim.co.uk/img/media/cc0e98cbde817b4e0012a0fd3b5936622efb5a7f/236_425_3159_1895/master/3159.jpg?width=620&quality=45&auto=format&fit=max&dpr=2&s=73605dcd2d992bdc0cf5139dd165c4a0″,"width":1240},{"src":"https://i.guim.co.uk/img/media/cc0e98cbde817b4e0012a0fd3b5936622efb5a7f/236_425_3159_1895/master/3159.jpg?width=605&quality=85&auto=format&fit=max&s=1b1b148c7524d9d8314c608a32e75c33″,"width":605},{"src":"https://i.guim.co.uk/img/media/cc0e98cbde817b4e0012a0fd3b5936622efb5a7f/236_425_3159_1895/master/3159.jpg?width=605&quality=45&auto=format&fit=max&dpr=2&s=28c253768f740ef77cc941ce8e5e83ac","width":1210},{"src":"https://i.guim.co.uk/img/media/cc0e98cbde817b4e0012a0fd3b5936622efb5a7f/236_425_3159_1895/master/3159.jpg?width=445&quality=85&auto=format&fit=max&s=edee20a7463f6d2f0b81a0fc54ab8a85″,"width":445},{"src":"https://i.guim.co.uk/img/media/cc0e98cbde817b4e0012a0fd3b5936622efb5a7f/236_425_3159_1895/master/3159.jpg?width=445&quality=45&auto=format&fit=max&dpr=2&s=776876137cf4a5b98ca4a17d443acdb7″,"width":890}]},{"weighting":"showcase","srcSet":[{"src":"https://i.guim.co.uk/img/media/cc0e98cbde817b4e0012a0fd3b5936622efb5a7f/236_425_3159_1895/master/3159.jpg?width=860&quality=85&auto=format&fit=max&s=d99a3719fc5e18918d41dd57c76b6f84″,"width":860},{"src":"https://i.guim.co.uk/img/media/cc0e98cbde817b4e0012a0fd3b5936622efb5a7f/236_425_3159_1895/master/3159.jpg?width=860&quality=45&auto=format&fit=max&dpr=2&s=c9ba45b470db3d0d7d996442e310aac2″,"width":1720},{"src":"https://i.guim.co.uk/img/media/cc0e98cbde817b4e0012a0fd3b5936622efb5a7f/236_425_3159_1895/master/3159.jpg?width=780&quality=85&auto=format&fit=max&s=aee819563bd5d615bacdb8dbd7a34e30″,"width":780},{"src":"https://i.guim.co.uk/img/media/cc0e98cbde817b4e0012a0fd3b5936622efb5a7f/236_425_3159_1895/master/3159.jpg?width=780&quality=45&auto=format&fit=max&dpr=2&s=73518d6a6adf58264af8b6a6cc6147a3″,"width":1560},{"src":"https://i.guim.co.uk/img/media/cc0e98cbde817b4e0012a0fd3b5936622efb5a7f/236_425_3159_1895/master/3159.jpg?width=620&quality=85&auto=format&fit=max&s=27fe7f65eeb59f3658cfe3ac42c85e12″,"width":620},{"src":"https://i.guim.co.uk/img/media/cc0e98cbde817b4e0012a0fd3b5936622efb5a7f/236_425_3159_1895/master/3159.jpg?width=620&quality=45&auto=format&fit=max&dpr=2&s=73605dcd2d992bdc0cf5139dd165c4a0″,"width":1240},{"src":"https://i.guim.co.uk/img/media/cc0e98cbde817b4e0012a0fd3b5936622efb5a7f/236_425_3159_1895/master/3159.jpg?width=605&quality=85&auto=format&fit=max&s=1b1b148c7524d9d8314c608a32e75c33″,"width":605},{"src":"https://i.guim.co.uk/img/media/cc0e98cbde817b4e0012a0fd3b5936622efb5a7f/236_425_3159_1895/master/3159.jpg?width=605&quality=45&auto=format&fit=max&dpr=2&s=28c253768f740ef77cc941ce8e5e83ac","width":1210},{"src":"https://i.guim.co.uk/img/media/cc0e98cbde817b4e0012a0fd3b5936622efb5a7f/236_425_3159_1895/master/3159.jpg?width=445&quality=85&auto=format&fit=max&s=edee20a7463f6d2f0b81a0fc54ab8a85″,"width":445},{"src":"https://i.guim.co.uk/img/media/cc0e98cbde817b4e0012a0fd3b5936622efb5a7f/236_425_3159_1895/master/3159.jpg?width=445&quality=45&auto=format&fit=max&dpr=2&s=776876137cf4a5b98ca4a17d443acdb7″,"width":890}]},{"weighting":"halfwidth","srcSet":[{"src":"https://i.guim.co.uk/img/media/cc0e98cbde817b4e0012a0fd3b5936622efb5a7f/236_425_3159_1895/master/3159.jpg?width=620&quality=85&auto=format&fit=max&s=27fe7f65eeb59f3658cfe3ac42c85e12″,"width":620},{"src":"https://i.guim.co.uk/img/media/cc0e98cbde817b4e0012a0fd3b5936622efb5a7f/236_425_3159_1895/master/3159.jpg?width=620&quality=45&auto=format&fit=max&dpr=2&s=73605dcd2d992bdc0cf5139dd165c4a0″,"width":1240},{"src":"https://i.guim.co.uk/img/media/cc0e98cbde817b4e0012a0fd3b5936622efb5a7f/236_425_3159_1895/master/3159.jpg?width=605&quality=85&auto=format&fit=max&s=1b1b148c7524d9d8314c608a32e75c33″,"width":605},{"src":"https://i.guim.co.uk/img/media/cc0e98cbde817b4e0012a0fd3b5936622efb5a7f/236_425_3159_1895/master/3159.jpg?width=605&quality=45&auto=format&fit=max&dpr=2&s=28c253768f740ef77cc941ce8e5e83ac","width":1210},{"src":"https://i.guim.co.uk/img/media/cc0e98cbde817b4e0012a0fd3b5936622efb5a7f/236_425_3159_1895/master/3159.jpg?width=445&quality=85&auto=format&fit=max&s=edee20a7463f6d2f0b81a0fc54ab8a85″,"width":445},{"src":"https://i.guim.co.uk/img/media/cc0e98cbde817b4e0012a0fd3b5936622efb5a7f/236_425_3159_1895/master/3159.jpg?width=445&quality=45&auto=format&fit=max&dpr=2&s=776876137cf4a5b98ca4a17d443acdb7″,"width":890}]},{"weighting":"immersive","srcSet":[{"src":"https://i.guim.co.uk/img/media/cc0e98cbde817b4e0012a0fd3b5936622efb5a7f/236_425_3159_1895/master/3159.jpg?width=1900&quality=85&auto=format&fit=max&s=0c3607342357dc4d97ed01784266ae19″,"width":1900},{"src":"https://i.guim.co.uk/img/media/cc0e98cbde817b4e0012a0fd3b5936622efb5a7f/236_425_3159_1895/master/3159.jpg?width=1900&quality=45&auto=format&fit=max&dpr=2&s=2addb90cf65dfa944d8b18bdbc4c3554″,"width":3800},{"src":"https://i.guim.co.uk/img/media/cc0e98cbde817b4e0012a0fd3b5936622efb5a7f/236_425_3159_1895/master/3159.jpg?width=1300&quality=85&auto=format&fit=max&s=91e03dfdf1373a5c5232d9024d3e61b8″,"width":1300},{"src":"https://i.guim.co.uk/img/media/cc0e98cbde817b4e0012a0fd3b5936622efb5a7f/236_425_3159_1895/master/3159.jpg?width=1300&quality=45&auto=format&fit=max&dpr=2&s=b5d5351f3bb6ea1059485a9b5071640c","width":2600},{"src":"https://i.guim.co.uk/img/media/cc0e98cbde817b4e0012a0fd3b5936622efb5a7f/236_425_3159_1895/master/3159.jpg?width=1140&quality=85&auto=format&fit=max&s=c0501f309a0a74525574b9f096ea3817″,"width":1140},{"src":"https://i.guim.co.uk/img/media/cc0e98cbde817b4e0012a0fd3b5936622efb5a7f/236_425_3159_1895/master/3159.jpg?width=1140&quality=45&auto=format&fit=max&dpr=2&s=84c0bd8354527396559c8130f40cd847″,"width":2280},{"src":"https://i.guim.co.uk/img/media/cc0e98cbde817b4e0012a0fd3b5936622efb5a7f/236_425_3159_1895/master/3159.jpg?width=980&quality=85&auto=format&fit=max&s=0d9ad89e31560fd7c108c10014b57be7″,"width":980},{"src":"https://i.guim.co.uk/img/media/cc0e98cbde817b4e0012a0fd3b5936622efb5a7f/236_425_3159_1895/master/3159.jpg?width=980&quality=45&auto=format&fit=max&dpr=2&s=86ca7e7e2154e55344844db91a32cc50″,"width":1960},{"src":"https://i.guim.co.uk/img/media/cc0e98cbde817b4e0012a0fd3b5936622efb5a7f/236_425_3159_1895/master/3159.jpg?width=740&quality=85&auto=format&fit=max&s=0b44b4d24a95115d99686c6e34e302b8″,"width":740},{"src":"https://i.guim.co.uk/img/media/cc0e98cbde817b4e0012a0fd3b5936622efb5a7f/236_425_3159_1895/master/3159.jpg?width=740&quality=45&auto=format&fit=max&dpr=2&s=6dcc09482d7dd6c115e54ff09e69246f","width":1480},{"src":"https://i.guim.co.uk/img/media/cc0e98cbde817b4e0012a0fd3b5936622efb5a7f/236_425_3159_1895/master/3159.jpg?width=660&quality=85&auto=format&fit=max&s=3f43c462d12572625c29cef119558f6e","width":660},{"src":"https://i.guim.co.uk/img/media/cc0e98cbde817b4e0012a0fd3b5936622efb5a7f/236_425_3159_1895/master/3159.jpg?width=660&quality=45&auto=format&fit=max&dpr=2&s=f88e60a164e6ebbf31851b6148f79602″,"width":1320},{"src":"https://i.guim.co.uk/img/media/cc0e98cbde817b4e0012a0fd3b5936622efb5a7f/236_425_3159_1895/master/3159.jpg?width=480&quality=85&auto=format&fit=max&s=018228b068c3b539af081a3b8f9e0d86″,"width":480},{"src":"https://i.guim.co.uk/img/media/cc0e98cbde817b4e0012a0fd3b5936622efb5a7f/236_425_3159_1895/master/3159.jpg?width=480&quality=45&auto=format&fit=max&dpr=2&s=6db9726004fb7b5b7b39d23b4ed0efc8″,"width":960}]}],"elementId":"4550198d-b873-4ce3-b677-28ebad8725ea"}],"attributes":{"pinned":false,"keyEvent":true,"summary":false},"blockCreatedOn":1674931550000,"blockCreatedOnDisplay":"13.45 EST","blockLastUpdated":1674931910000,"blockLastUpdatedDisplay":"13.51 EST","blockFirstPublished":1674931750000,"blockFirstPublishedDisplay":"13.49 EST","blockFirstPublishedDisplayNoTimezone":"13.49″,"title":"Half-time: Preston North End 0-0 Tottenham Hotspur","contributors":[],"primaryDateLine":"Sat 28 Jan 2023 15.20 EST","secondaryDateLine":"First published on Sat 28 Jan 2023 11.57 EST"},{"id":"63d562b18f085c034debcc63″,"elements":[{"_type":"model.dotcomrendering.pageElements.TextBlockElement","html":"

1 min: Preston get the ball rolling in a packed Deepdale and immediately win a throw-in halfway inside the Tottenham half. Robbie Brady, who until a couple of hours ago I presuymed to have retired, takes it.

","elementId":"bad90458-36e9-4a62-8b28-0bca096028a3″}],"attributes":{"pinned":false,"keyEvent":true,"summary":false},"blockCreatedOn":1674928817000,"blockCreatedOnDisplay":"13.00 EST","blockLastUpdated":1674932258000,"blockLastUpdatedDisplay":"13.57 EST","blockFirstPublished":1674928904000,"blockFirstPublishedDisplay":"13.01 EST","blockFirstPublishedDisplayNoTimezone":"13.01″,"title":"Preston v Tottenham Hotspur is go …","contributors":[],"primaryDateLine":"Sat 28 Jan 2023 15.20 EST","secondaryDateLine":"First published on Sat 28 Jan 2023 11.57 EST"},{"id":"63d557798f0828070504e544″,"elements":[{"_type":"model.dotcomrendering.pageElements.TextBlockElement","html":"

Preston North End: Woodman; Storey, Lindsay, Hughes; Browne, McCann, Ledson, Whiteman, Brady; Cannon, Evans

","elementId":"358db122-5e86-4c91-a6b8-26eb1bdef8ef"},{"_type":"model.dotcomrendering.pageElements.TextBlockElement","html":"

Subs: Cornell, Bauer, Diaby, Cunningham, Potts, Fernandez, Johnson, Woodburn, Cross-Adair

","elementId":"91d8092e-6c84-4f8b-837c-b39652d5e01e"},{"_type":"model.dotcomrendering.pageElements.TextBlockElement","html":"

Tottenham Hotspur: Forster; Tanganga, Sanchez, Lenglet; Doherty, Bissouma, Bentancur, Sessegnon; Kulusevski, Son, Perisic

","elementId":"9111dd71-4db3-4fd6-b075-32192ca6a445″},{"_type":"model.dotcomrendering.pageElements.TextBlockElement","html":"

Subs: Austin, Dier, Davies, Royal, Skipp, Hojbjerg, Bryan, Danjuma, Kane

","elementId":"b4b6632c-e162-4ea1-82e6-c8fcb643e5de"}],"attributes":{"pinned":false,"keyEvent":true,"summary":false},"blockCreatedOn":1674925945000,"blockCreatedOnDisplay":"12.12 EST","blockLastUpdated":1674926028000,"blockLastUpdatedDisplay":"12.13 EST","blockFirstPublished":1674926028000,"blockFirstPublishedDisplay":"12.13 EST","blockFirstPublishedDisplayNoTimezone":"12.13″,"title":"Preston v Tottenham Hotspur line-ups","contributors":[],"primaryDateLine":"Sat 28 Jan 2023 15.20 EST","secondaryDateLine":"First published on Sat 28 Jan 2023 11.57 EST"},{"id":"63d3dcab8f085c034debc0ca","elements":[{"_type":"model.dotcomrendering.pageElements.TextBlockElement","html":"

Deepdale is the venue for this evening's match between Championship side Preston and Tottenham Hotspur, their visitors from the top flight. Eleventh in the table but just two points off the play-off places, it remains to be seen from his team selection just how seriously Preston's 44-year-old manager Ryan Lowe will be taking a competition his club last won in 1938.

","elementId":"8d6d02eb-e25e-4a4b-9fec-5707a3d1bba4″},{"_type":"model.dotcomrendering.pageElements.TextBlockElement","html":"

While Antonio Conte is also like to ring the changes with his team still in the Champions League chasing a top four spot in the Premier League, Tottenham Hotspur's fans are desperate for their side to end a famously long trophy drought that stretches back to 2008. It will not go down well with the Spurs fanbase if their side is dumped out of the Cup by a team from a divsion below. Kick-off in Lancashire is at 6pm (GMT) buty stay tuned in the meantime for team news and build-up.

","elementId":"05815e7b-4da8-40c7-a8a3-88206d560f5f"}],"attributes":{"pinned":false,"keyEvent":true,"summary":false},"blockCreatedOn":1674925065000,"blockCreatedOnDisplay":"11.57 EST","blockLastUpdated":1674917880000,"blockLastUpdatedDisplay":"09.58 EST","blockFirstPublished":1674925065000,"blockFirstPublishedDisplay":"11.57 EST","blockFirstPublishedDisplayNoTimezone":"11.57″,"title":"FA Cup fourth round: Preston v Tottenham Hotspur","contributors":[],"primaryDateLine":"Sat 28 Jan 2023 15.20 EST","secondaryDateLine":"First published on Sat 28 Jan 2023 11.57 EST"}],"filterKeyEvents":false,"format":{"display":0,"theme":2,"design":11},"id":"key-events-carousel-mobile"}">

main events
Match report: Preston 0-3 Tottenham Hotspur
Fourth round of the FA Cup: Son scored twice as Arnaut Danjuma hit the mark on his debut for the Spurts on a damp and dreary evening in Lancashire. Reporting by Jimmy Jackson from Deepdale…
Manchester United and Reading match live: Paul Ince takes Reading back to his old home ground at Old Trafford for today's fourth-round match. Alex Hess has another…
The son speaks: "It's always difficult FA cup, especially when you're playing away from home," he told the BBC. "It's always difficult and I think we struggled a little bit in the first half because they were defending really deep. I'm glad I was able to help the team and we can now look forward to the next round.
"I need goals for my confidence and just to play games. They are the positions I like to shoot from and in the first half I had two chances but the goalkeeper saved well. I'm very, very happy."
Full time: Preston 0-3 Tottenham Hotspur
peep! peep! Beeeeeeeeeeeeeeeeeeeeeeeeeeeeeeeeeeeeeeeeeeeeeeeeeeeeeeeeeeeeeeeeeeeeeeeeeeeeeeeeeeeeeeeeeeeeeee Referee Peter Banks blows the final whistle and Tottenham Hotspur Advance to the fifth round. It wasn't a long game and the first half was particularly bleak, but two second-class moments in the second half from Heung-min Son put the game away for Preston before Arnaud Danjuma came off the bench to score on his debut. Remained on the bench for the duration of the game, Harry Kane will have to wait a little longer to break Tottenham's Jimmy Greaves scoring record.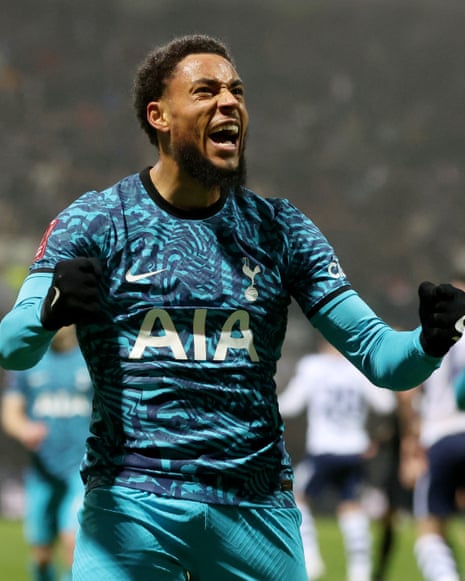 90 + 3 minutes: Spurs corner. Perisic raises his left hand to indicate his intention to hit the ball at the near post. He does just that but there's no one in a Spurs shirt there to flick.
90 + 2 minutes: There is a break in play as a pitch invader is caught by the hosts.
90 minutes: Preston replacement: 18-year-old Finley Kroos-Adder replaces Ched Evans.
Goal! Preston 0-3 Tottenham Hotspur (Dangoma 87)
Debut goal for Arnaut Danjuma! The Dutch striker sprints in from close range to find the bottom corner after connecting in a low cross from Dejan Kulusevski from the right. His shot wasn't the cleanest but he wouldn't care.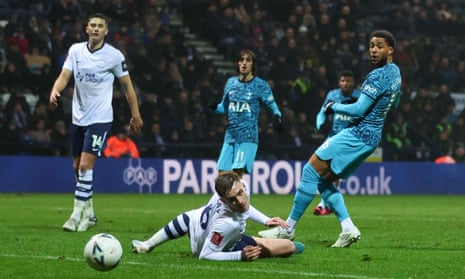 85 minutes: Eben looks on into a world of (physical) pain as he takes his place on the Tottenham bench. If he charges a knock, I didn't notice.
85 minutes: Tottenham substitution: Brian Gill replaces Son.
84 minutes: Freddie Woodman races down the line to collect Ivan Perisic's cross.
81 minutes: Two moments of separation from Son Heung-min separated the two sides and lit up a rather dismal match in Deepdale. Do the two props point to the return of the beloved South Korean player, or will it be a false dawn like his hat-trick against Leicester in mid-September? If he wants to get another ball to bring home, he'll need to move quickly because he's about to be substituted.
79 minutes: Preston Corner. Fraser Forster claims the wide player is aggressively under pressure from Tom Cannon, who has positioned himself close to the toes of the Tottenham goalkeeper on such set-pieces.
77 minutes: Preston double replacement: Alvaro Fernandez and Daniel Johnson for Robbie Brady and Ali McCann.
75 minutes: Davinson Sanchez takes a Preston free kick from the edge of the Tottenham penalty area.
70 minutes: Preston replacement: Ben Woodburn replaces Ryan Ledison. Tottenham's triple substitution: Oliver Skip and Emerson Royal for Bentancur and Doherty. Arnaut Danjuma is also making his debut in place of Ryan Sessegnon.
Goal! Preston 0-2 Tottenham (EBN 69)
Tottenham doubles its lead. With his back to goal in the Preston penalty area, Son latched onto a superb pass just around the corner from Perisic. With a deft turn, he sent Preston defender Jordan Storey into the Deepdale car park before shooting past Freddie Woodman.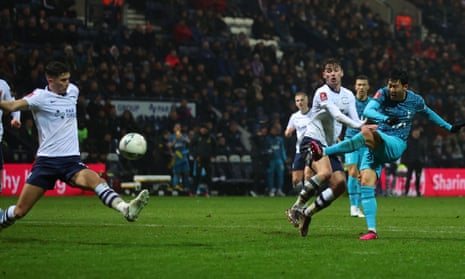 67 minutes: From the left touchline, Ryan Lidson tries to send a cross into the Tottenham penalty area. His delivery is poor and the ball is cleared by Yves Bissouma.
65 minutes: With his back to goal, Ivan Perisic edged out Liam Lindsay and won with a header about eight yards from the Preston goal. His repeated effort threatens to go under the bar but Freddie Woodman keeps him out.
63 minutes: Preston won with a free kick 40 yards from Tottenham's goal. Alan Nero floats the ball to the left and heads back across the face of the six-yard box. Tottenham goalkeeper Fraser Forster gathered.
62 minutes: Preston has responded well to the ordeals caused by her son. From the edge of the Tottenham penalty area, Ben Whiteman tries to curl the ball inside the left flank upright, but his effort is narrow.
61 minutes: Preston striker Tom Cannon was booked for a screeching dive on the edge of the Tottenham penalty area. He was expecting a call from Japhet Tanganga, who was in close quarters but it never happened.
59 minutes: Alan Brown wins a corner kick for Preston, his cross attempt to rebound away from a defender. Robbie Brady tries to send the ball into the mixer but his delivery is too bad. Failed to clear the first man.
58 minutes: Andrew Hughes sends the ball forward, Tom Cannon wins the header and hits it towards the penalty area. Evans cannot reach him.
56 minutes: Sesgnorn had an attempted cross blocked by Alan Brown. Corner for Tottenham. Son and Perisic take it short and the South Korean creates an angle to get the ball into Preston's box. been cleared.
55 minutes: Preston makes a rare attacking strike into the Spurs half but is unable to force his way in. Signon recovers the ball for the visitors.
54 minutes: Preston win a free kick on the halfway line and Robbie Brady sends the ball into the Tottenham penalty area. been cleared.
52 minutes: That was a fine shot from Son, who caught a pass in the midfield, picked his spot and then sent an unstoppable shot that flicked up and down into the bottom left corner.
Goal! Preston 0-1 Tottenham Hotspur (Ibn 50)
Tottenham leads! It's the third time lucky for Son, who hits a long-range curled left-footed ball into the bottom corner from at least 25 yards. Freddie Woodman saw his shot late and didn't get close.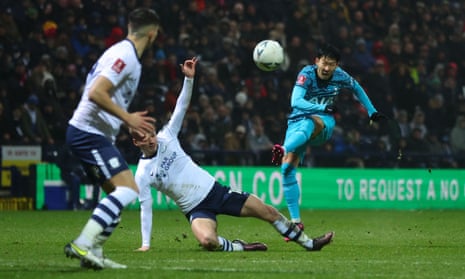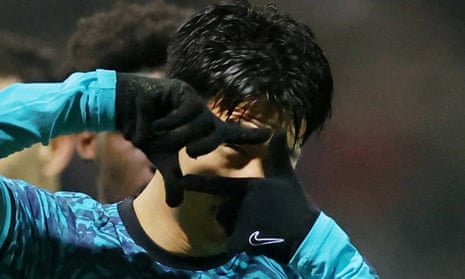 49 minutes: Clement Lenglet fired high over the bar from distance, with Tottenham moving visibly more urgently in the early stages of this second half. It's a low bar, to be fair.
48 minutes: Sessegnon hits a cross into Preston's penalty area from the left, but fails to choose a teammate. His delivery was cleared at the nearby site.
47 minutes: Tottenham took the lead and Dejan Kulusevski blocked a shot after it was cut in from the right.
Second half: Preston 0-0 Tottenham Hotspur
46 minutes: Play resumes as Tottenham kick off and there are no personnel changes on either side.
e-mail: "God only knows how much abuse Emerson Royal would have received if he had repeated what Sisingon is doing now and what he's been doing all this season," wrote Yash Gupta. "He receives the ball in beautiful areas and essentially passes it to the opposition while his defense makes TAA look like a world-class defender."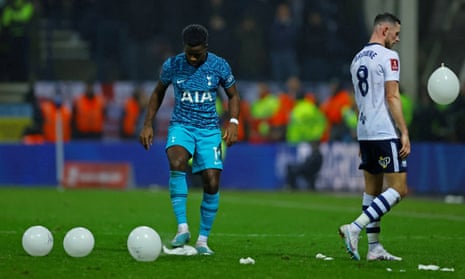 Half time: Preston North End 0-0 Tottenham Hotspur
peep! A seriously disappointing first half was taken off by referee Peter Banks but Preston manager Ryan Lowe wouldn't mind the lack of entertainment. His team defended well and limited Spurs with three shots from long range but didn't do much going forward. Spurs seemed bereft of ideas against a stout wall of white resistance.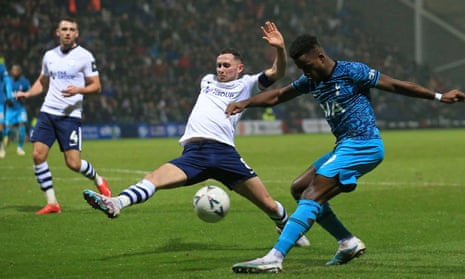 44 minutes: Signon now tries to cross the ball from near the left sideline, only to see his effort intercepted by Alan Brown. Moments earlier, Liam Lindsay had put his leg up to deny Kulusevski a shot on goal with a fine save.
40 minutes: In the space at the bottom left, Ryan Sessegnon tries to cross the ball towards the far post but sends it over the crossbar and onto the roof of the net, prompting jeers from the Preston fans. This terrible.
38 minutes: Rodrygo Bentancur removes the ball from play after a foul touch. A goal kick for Preston, whose manager Ryan Lowe will be very pleased with his side's defensive performance so far.
37 minutes: From that corner, Tottenham won again and chipped the ball towards Dejan Kulusevski. Shoots over the bar from a long distance.
36 minutes: Tottenham wins with a wide free kick from the right, deep in the Preston area, in line with the front edge of the penalty area. Son's delivery fails to clear Robbie Brady, the only man in front of him and the ball runs off the Irishman and out from a corner. I've said it before and I'll say it again, Son's dead ball handover is very questionable.
34 minutes: Preston's most stout and disciplined defense prevents Spurs from finding a way to defend. Regardless of Son's two far-reaching efforts, they had created nothing in this half.
33 minutes: With all the time in the world at his disposal, Clement Lenglet dramatically lobs a pass towards Son and sends the ball wide for a goal kick. Can we have more balloons in the field, please?