A pine beaver was spotted in London For the first time in more than a century after it was photographed on a camera trap installed to monitor hedgehogs.
This endangered animal was driven to extinction in England a hundred years ago and has only been seen again For the first time in Shropshire Hills in 2015It remains an extremely rare animal.
This pine fish was captured by the camera in a forest in southwest London where the cameras were installed by Zoological Society of London (ZSL) as part of London Hogwash A project to monitor and maintain the hedgehog population in the capital.
"As part of our ongoing work on hedgehog monitoring, we are deploying camera traps through the woods," said Kate Scott Gatti, research assistant at ZSL and London HogWatch. "In this area they are usually released by the movement of common species such as foxes and badgers, so you can imagine our surprise at seeing the pinefish – a species only glimpsed in Scotland and northern England."
Pine chimes are mobile animals but it is not known if the animal captured by the camera made its way naturally from the nearest known range in the New Forest 80 miles away or if it was released, possibly as part of an informal reintroduction effort.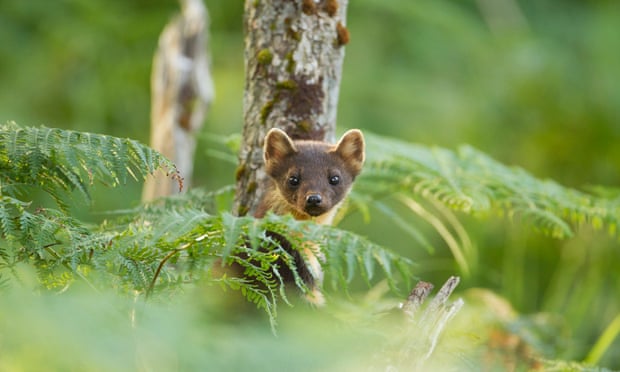 Searching in Northern Ireland Show that pineapple usually avoids crowded urban areas but there is plenty of food available in London, with gray squirrels Very easy target. Experts believe it is unlikely he targeted hedgehogs in the woods, although pine tanks have been recorded with baby hedgehogs.
Gamekeepers have historically targeted this species because they devour game birds: this is what led to the species' extinction in England in the last century. But now, as the oppression decreased, so was the pineapple Seen again in Northumberland In 2018, the animals were Reintroduced to Forest of Dean In 2019 with more Reintroduction is being planned for Exmoor and Dartmoor.
ZSL said it will continue to monitor its camera traps for signs of pinefish, which were captured on July 3. If more photographs are taken, individual animals can be recognized by the characteristic pale chest "bib" shape.
Dr Chris Carbone, senior researcher at the ZSL Institute of Zoology, said: "The return of wildlife to an area could be positive. It could mean that habitat quality is improving or natural food sources are increasing but it is important to understand more. It should not be reintroduced. Species can only be examined by specialists, with appropriate examinations carried out – from assessment of habitat suitability to disease screening."
The exact location of the sighting was not disclosed but Elliot Newton, a biodiversity officer at the Royal Borough of Kingston upon Thames, said: 'Across other European countries, urban pine tanks are being recorded. The person captured with our cameras looks healthy and is a welcome addition. To our local animals. We will continue to monitor to get more views and continue our efforts to protect our environment."